FUNimation has announced a North American limited theatrical run for the new film Dragon Ball Z: Battle of Gods from 05 August 2014 to 09 August 2014. Ticket information is not yet available, but the company has provided a sign-up form to be notified when said information becomes available.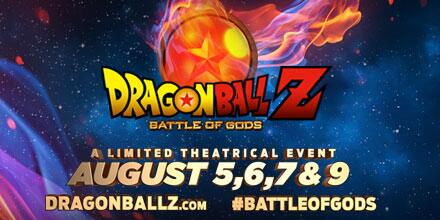 Stunning animation and epic new villains highlight the first new Dragon Ball Z feature film in seventeen years! Beerus, the God of Destruction, travels to Earth in search of a good fight. Only Goku, humanity's greatest hero, can ascend to the level of a Super Saiyan God and stop Beerus's rampage!
The company has posted a teaser trailer for the film featuring a "Kamehameha" by voice actor Sean Schemmel (Goku):
And so it begins: Battle of Gods is finally coming to North America. Are you excited to finally see Beerus and company hit our shores for a domestic release?
UPDATE: FUNimation also issued a press release announcing the theatrical run.
Dragon Ball Z: Battle of Gods Blasts into U.S. Movie Theaters This August

FLOWER MOUND, Texas, May 30, 2014 /PRNewswire/ — Prepare for the Dragon Ball Z experience of a lifetime as Earth's greatest heroes hit the big screen in Dragon Ball Z: Battle of Gods! Stunning animation and epic new villains highlight this first new Dragon Ball feature film in over seventeen years!

Following the events from the Dragon Ball Z television series, after the defeat of Majin Boo, a new power awakens and threatens humanity. Beerus, an ancient and powerful God of Destruction, searches for Goku after hearing rumors of the Saiyan warrior who defeated Frieza. Realizing the threat Beerus poses to their home planet, the Z-fighters must find a way to stop him before it's too late. Only Goku, humanity's last hope, can ascend to the level of a legendary Super Saiyan God and stop Beerus from destroying Earth, and possibly the entire universe! Fans of the series will be delighted to know that Battle of Gods is an original work from Dragon Ball creator, himself, Akira Toriyama.

"We're very excited to be bringing Battle of Gods to movie theaters across the country this summer," said Gen Fukunaga, CEO and President of FUNimation Entertainment. "Dragon Ball Z has always been a huge part of everything we do at FUNimation and, speaking as a fan myself, I can't wait to watch it on the big screen." FUNimation Entertainment will be partnering with Screenvision, a leader in cinema advertising and alternative content, to bring Dragon Ball Z : Battle of Gods to over 350 screens across the US & Canada.

There is still plenty more to announce in the coming weeks, so stay tuned for more information regarding release dates and cast announcements.

For more information on Dragon Ball Z: Battle of Gods, as well as upcoming tickets and showtimes, please visit www.dragonballz.com , Like us on Facebook at www.facebook.com/dragonballz & www.facebook.com/funimation , and follow us on Twitter at www.twitter.com/funimation .