This week's upcoming July 2014 issue of Saikyō Jump in Japan will contain a side story featuring Majin Boo. As detailed in this week's 2014 #27 issue of Weekly Shōnen Jump:
魔人ブウがSDキャラに!
『ドラゴンボールSD』 魔人ブウ番外編

---

Majin Boo becomes an SD character!
"Dragon Ball SD" Majin Boo Side Story
Saikyō Jump began as a quarterly publication in 2011. The four Dragon Ball SD chapters over the year featured Goku and Kuririn's training with Kame-Sen'nin, followed by a consolidated Freeza arc, followed by a consolidated Cell arc, and wrapped things up with a consolidated Majin Boo arc.
When the publication went monthly for January 2012, author and illustrator Naho Ooishi took Dragon Ball SD back to the actual beginning of the series and has been continuing onward ever since. While these monthly chapters have been receiving a collected release, the original four quarterly chapters have never been republished. It remains to be seen if this Majin Boo side story — clearly tied in with promoting the Majin Boo arc of Dragon Ball Kai currently airing on Fuji TV — will be this old quarterly chapter or if it will be an all-new story entirely.
The upcoming issue of Saikyō Jump will also feature an "Isobe Isobei & Dragon Ball SD Special collaboration!!" (promoted with a splash of "Has the editorial department gone mad?!") as well as a chapter from Toriyama's spin-off/parody series Neko Majin, with two tie-in Dragon Ball Heroes cards (Neko Majin Mike and Neko Majin Z).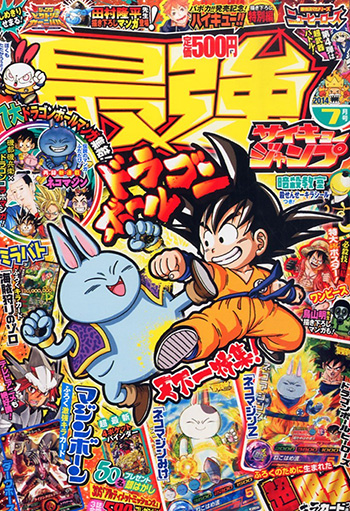 The July 2014 issue of Saikyō Jump is due out this week on 04 June 2014 and will retail for ¥500. The issue can be pre-ordered at CDJapan and Amazon Japan.