Bluefin Tamashii Nations USA revealed on Facebook last Friday that a very special edition of a Vegeta figure will be exclusive to San Diego Comic-Con: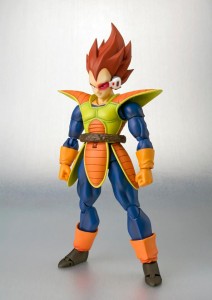 In this classic S.H.Figuarts rendition of Vegeta, he appears as you've only seen him in the original anime! Flash back to when Vegeta had reddish-brown hair and a completely different green and orange coloring for his Saiyan combat suit. Set comes with a rich variety of accessories for the ultimate action figure experience! Parts include folded arms, four interchangeable hand sets, including a special interchangeable "scouter crushing" hand part, three interchangeable face parts and head part with attachable scouter, tail parts, effect parts and special support stand for effect parts. This 2014 San Diego Exclusive is offered exclusively to fans in the US!
Obviously this is simply a re-colored version of Vegeta, but the color design is one that many fans have taken an interest in.
The convention will take place from 24 July 2014 to 27 July 2014 at the San Diego Convention Center in California. Bluefin Tamashii Nations USA has also been teasing a Broli figure on their Facebook page.
When Dragon Ball Z's fifth episode showed Vegeta and Nappa for the "first" time in May 1989 (though they were somewhat indirectly shown from afar in a prior episode during Raditz's flashback), the characters — specifically Vegeta — had not year appeared in a color manga chapter. Akira Toriyama, who has stated many times how lax he is with colors, would not draw a colorized Vegeta until the following month in Chapter 228.
In the third episode of Dragon Ball Kai, the scene that this color scheme originates from was re-animated to include the now-established colors:
Highlights of red or brown still occasionally pop up in Vegeta animations, especially in scenes with special lighting, such as in the Dragon Ball Z 2 / Budokai 2 opening theme.
Thanks to Gonstead for the heads-up.