The recently-announced new Dragon Ball Z film, set to debut during "Golden Week" in 2015, was quickly teased earlier today on Mezamashi TV in Japan.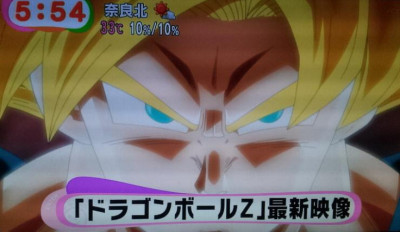 The images note the same information already provided in the film's original V-Jump reveal, such as its premiere timeframe and quotes from original manga author Akira Toriyama that he has, "…increased the action scenes by a good amount," and that it, "…should be super-duper interesting!" The visuals, however, are all-new and showcase Son Goku becoming a Super Saiyan, a fiery logo, and Shenlong coming out.
Thanks to @rebo59 for the initial heads-up on Twitter, as well as our buddy kei17 for additional materials.
UPDATE: A capture of the teaser has been uploaded to YouTube and features Hironobu Kageyama's original version of "CHA-LA HEAD-CHA-LA" behind the basic narration.
The 2013 Dragon Ball Z film, Battle of Gods, was given similar teases on Mezamashi TV with previews and promotional videos aired both as exclusives and in conjunction with Jump-branded festivals, such as the original CG teaser which debuted almost exactly two years ago (featuring a brief animation not actually used in the final product).