The Japanese Society for Rights of Authors, Composers and Publishers (JASRAC) database contains a new entry for what appears to be an additional song for the international version of the Majin Boo arc of Dragon Ball Kai: "Let It Burn" with lyrics by JUN, composition by Yasuharu Takanashi, and the song performed by Masatoshi Ono.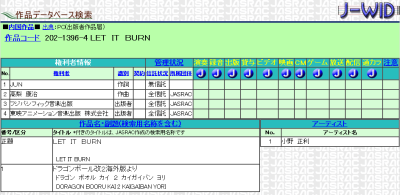 The international version of the Majin Boo arc of Dragon Ball Kai is being produced under a subtitle of "The Final Chapters" and has already begun airing in South Korea. This international version is different from the version currently airing in Japan, in that it is the "original" version of the arc; the Japanese broadcast seems to be a haphazard edit with fewer episodes, different background music placement, and entirely different opening and ending themes, but also retains vestiges of the international version's opening in its title card and eyecatch themes.
Masatoshi Ono also performs the international opening theme for the arc, "Fight it out", and had previously contributed to music on the expanded Dragon Ball Kai song collection albums during the "refreshed" series' original run in Japan from 2009-2011. The database listing does not mention whether or not "Let It Burn" is an opening theme, ending theme, or possibly even insert song, but it is specifically attributed to the "overseas/international edition" (海外版より).
Thanks to our buddy kei17 for passing along the find.