Movie box office service Box Office Mojo is reporting that Dragon Ball Z: Battle of Gods grossed $1.07 million opening night (05 August 2014) of its limited North American theatrical run. These results are based on 692 U.S. theaters that reported their earnings. As of this post, following its second day in theaters, the movie has grossed $1.94 million. Many fans across the country have reported sold out showings at their local theaters, and yesterday FUNimation sent out an e-mail thanking fans for showing up in droves.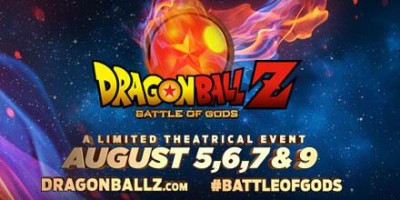 The limited theatrical run is officially slated to end this Saturday, but some areas will be seeing a delayed released from 14 August 2014 to 17 August 2014, so the final gross totals will not be available until then. However, based on the information available from Box Office Mojo, the United States posted the 4th best international opening day behind Argentina, Mexico, and Italy. Mexico currently holds the highest international total gross for the movie with $4.47 million accrued over its month-long theatrical run.
Be sure to share your Battle of Gods experience with us on our forum, or simply read the experiences from your fellow Dragon Ball fans. Also be sure to check back this weekend for a special podcast episode covering our own adventures to see the movie!