Listings for Manga UK's home video release of Dragon Ball Z: Battle of Gods have begun popping up on retailer sites. A listing on anime-on-line.com in particular indicates that the release will be a double-disc edition and will come packed with both the original theatrical cut of the film along with the special extended version that was aired on Fuji TV earlier this year in Japan:
This double disc edition includes both the 85 minute Theatrical Cut and the 105 minute Director's Cut. Both versions include the English and Japanese dubs and English subtitles. This edition also includes bonus content including "The Voices of Dragon Ball Z: Unveiled" and "Behind The Scenes: Battle of Voice Actors!".
A separate listing also confirms a "Collector's Edition" which will come packed with, "…4 collectable art cards and a limited edition o-card."
Manga UK will release the film on both DVD and Blu-ray 10 November 2014.
Back in June, FUNimation voice actor Sean Schemmel tweeted photos from his Battle of Gods recording sessions. One photo in particular contained a scene exclusive to the extended version of the film, prompting the question of whether FUNimation had been able to secure said version of the film for either theatrical or home release. All tweets related to the recording sessions were removed shortly thereafter.
FUNimation's North American theatrical tour of the film wraps up this week. No home release has been announced.
Thanks to our various forum members for digging up the listings!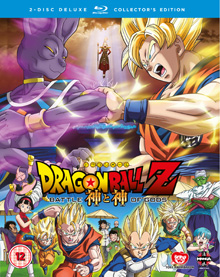 UPDATE: Listings for the "Collector's Edition" Blu-ray, standard Blu-ray, and DVD versions are now also up on Amazon UK and confirm the same extras, inclusion of the extended edition, etc. Thanks, Baggie_Saiyan!