The October 2014 issue of V-Jump hits Japanese shelves tomorrow (21 August 2014) in Japan and contains a huge amount of new information for the upcoming video game Dragon Ball XENOVERSE.

Tied in with the character creation mode revealed earlier this month, the magazine notes that you as the player will take on the role of the "Future Warrior" who travels to various points in Dragon Ball's history to do battle with legendary warriors.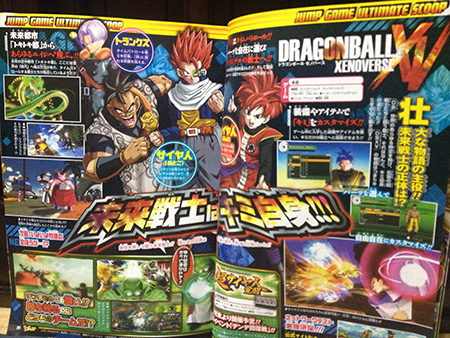 You will be able to choose your character's gender and beginning appearance, then customize their looks with a variety of parts, at least some of which are obtained over the course of playing the game (including both equipment and items). Three possible characters are showcased in the magazine: two male Saiyans (including the one used in promotional materials up until this point), and one female Saiyan. The male characters are used to demonstrate how your character can range from "smart" to "macho" while, for the female character, it points out the color of her hair and clothes and notes that she seems energetic. The female Saiyan is also shown in a screen shot becoming a Super Saiyan in a fight against Vegeta.
We know that other races will be included, but the magazine does not detail anything on them just yet.
Expanding upon Trunks' role in the game, the magazine notes that he calls the Time Patrol warriors to him to deal with the problem of time itself. You will fly to a variety of Ages from the future city "Timetropolis" (トキトキ都 tokitoki-to), a city in the sky from which there is a way to fly to the world's different eras; apparently, the warriors patrolling time gather here.
Screen shots of this area showcase you as the player being summoned by Trunks through the power of Shenlong for him to test your abilities.
The magazine wraps up its coverage of the game by proclaiming that in the next issue, "…the whole picture of the story will…!?"
A network test for the game will take place at some point in the future, though the magazine only notes to check the game's official website for more information.
Dragon Ball XENOVERSE will be released on the PlayStation 4, Xbox One, PlayStation 3, and Xbox 360, though no release date has been set.
The October 2014 issue of V-Jump goes for ¥580 and is available for order via CDJapan, Play-Asia, and Amazon Japan.