In celebration of four years of Dragon Ball Heroes, Bandai Namco will host a video stream, to be broadcast via Nico Nico, 05 October 2014 at 3:00 p.m. JST.

The event will cover the competition finals, reveal new information about the game, discuss the history of the Carddass series, and more. Guests set to appear include:
Masako Nozawa (voice of Son Goku, et al.)
Bin Shimada (voice of Broli)
Engineer Yoshito-kun, Battle Navigator Tsubasa, and Battle Princess Momo-chan
The event's stream listing directly addresses Super Saiyan 4 Broli by name ("Super Saiyan 4 Broli Explosive Birth Festival"), and with his voice actor included on the guest panel, we can assume the formal reveal will be a part of the event.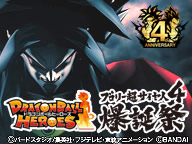 Look forward to more coverage of Dragon Ball Heroes and the upcoming stream here at Kanzenshuu in the coming weeks and months!