Sony began e-mailing out confirmations and download codes this morning for users who had registered for the upcoming Dragon Ball XENOVERSE Japanese network test. Our own code came in, and several community members also reported receiving codes! Subject lines will read as (in Japanese):
"PS3″『ドラゴンボール ゼノバース』ネットワークテスト参加プロダクトコード

---

"PS3" Dragon Ball XENOVERSE Network Test Participation Product Code
The official website for the game has reflected these date changes, noting that confirmations will indeed start going out today, and that the entry period has been extended through to 30 September 2014.
The network test will run its first phase over a 27-hour period from 20 September 2014 at 9:00 p.m. JST to 22 September 2014 at 12:00 a.m. JST. The second round of participants will (still, as previously announced) be notified starting 03 October 2014 with the test running over another 27-hour period from 04 October 2014 at 9:00 p.m. JST to 06 October 2014 at 12:00 a.m. JST.
Additionally, the European branch of Bandai Namco have unveiled their participation for the second phase:
DRAGON BALL XENOVERSE – Network Test is coming!
September 11, 2014

For the first time ever a game based on the mythical DRAGON BALL license will benefit from a Network Test!

All European DRAGON BALL fans will be delighted to discover that BANDAI NAMCO Games is planning a Network Test from 4th Oct 12:00 to 5th Oct 15:00 GMT. (27 hours)

Thanks to this Network Test, fans will be involved in the game's development and will be able to give their feedbacks, support BANDAI NAMCO Games in its Servers stress-test and above all: get their hands on the game and get a first glimpse at it ! Players can register themselves here from now on!

To celebrate this, DRAGON BALL XENOVERSE gets a brand new website: www.DragonBallXenoverse.com.! This portal will be updated regularly with the latest news and assets! All fans should keep an attentive on it, surprises might occur!
The new website offers a link for European PS3 owners to register for the second phase of the network test.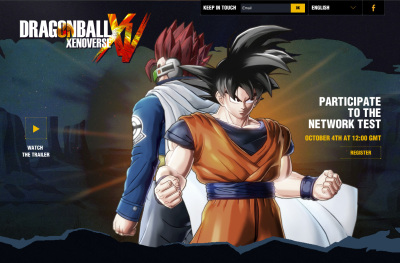 Dragon Ball XENOVERSE — currently in development by Dimps for Bandai Namco — will be released on the PlayStation 4, Xbox One, PlayStation 3, and Xbox 360, though no release date has been set.