As reported on Anime News Network, in conjunction with today's 2014 #42 issue of Weekly Shōnen Jump in Japan, Shueisha has released artwork from Akira Toriyama and Eiichirō Oda of Son Goku (Dragon Ball) and Monkey D. Luffy (One Piece) teasing a new "Shonen Jump+" project.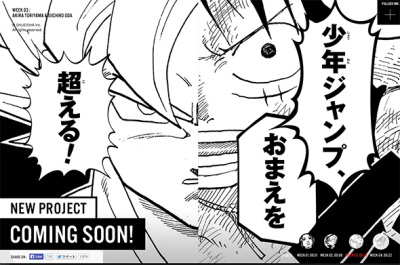 少年ジャンプ、おまえを
超える!

---

Shōnen Jump, I will
surpass you!
A full-sized, textless version of the image is also available on the official website: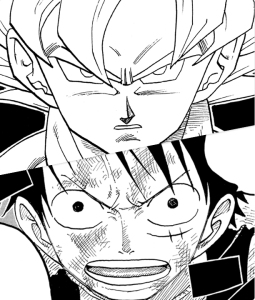 The image of Goku comes from Chapter 390 of the Dragon Ball manga as the character sizes-up Cell:
The previous two weeks worth of images have included contributions from Hirohiko Araki (Jojo's Bizarre Adventure) and Akira Amano (Katekyo Hitman Reborn!). Each image has revealed one more subsequent line in the full sentence. A fourth update is scheduled for 22 September 2014.