Super Dragon Ball Z is a game that needs no introduction around these parts. Created by Crafts & Meister-fronted Noritaka Funamizu (co-designer of various Street Fighter games), the game came at a time when Dimps was wrapping up the Dragon Ball Z / Budokai series while Spike was jumping into the ring with their Sparking! / Budokai Tenkaichi series, offering traditional fighting game enthusiasts something more akin to what they had grown up with.
After an announcement in late 2005, the game officially hit Japanese arcades 22 December 2005 (and was ported to the PlayStation 2 the following year). Alongside the launch, the game's official website published a sketch and message from original manga author Akira Toriyama: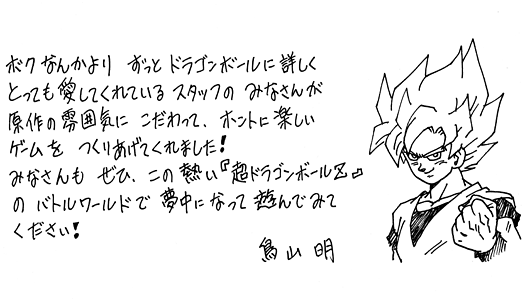 Everyone on the staff, who is more knowledgeable about Dragon Ball than a guy like me, and who love it very much, obsessed over [reproducing] the atmosphere of the original comic, and have finished up a truly enjoyable game!

Everyone, by all means please give it a play, losing yourself in the battle world of this hot Super Dragon Ball Z!

— Akira Toriyama
Stay tuned for even more content from the Super Dragon Ball Z archives in the coming days! In addition to some podcast coverage, we have translated comments from three members of the game's production staff, along with an absolutely massive "Rumor Guide" entry / research project. As they say, please look forward to it!