Bandai Namco had already announced that the upcoming Dragon Ball XENOVERSE video game would be both on display and playable at the upcoming Tokyo Game Show, and now the company has updated with additional plans and schedules for the impending event.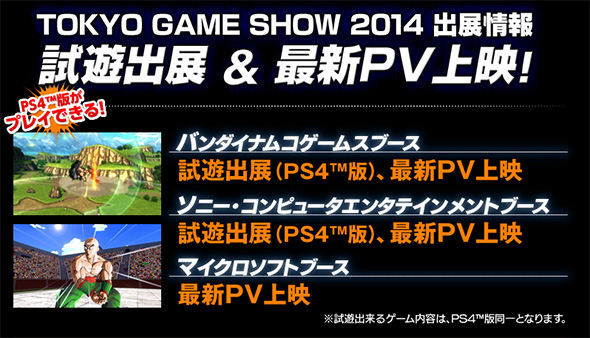 At the Bandai Namco booth, individuals appearing at a stage event Saturday morning will include Masayuki Mirano (Dragon Ball XENOVERSE producer), Hisashi Koinuma (Koei Tecmo Games), Kōji Nakajima (One Piece: Pirate Warriors 3 producer), and more special guests. In terms of overall presence at the show itself, there will be trial play areas at the Bandai Namco Games booth and the Sony Computer Entertainment booth, with the latest XENOVERSE trailer at these plus the Microsoft booth.
The PlayStation 4 version of XENOVERSE will be the one playable on the show floor.
Dragon Ball XENOVERSE — currently in development by Dimps for Bandai Namco — will be released on the PlayStation 4, Xbox One, PlayStation 3, and Xbox 360, though no release date has been set. A network test will be conducted in two phases on the PlayStation 3, with the first coming this weekend for Japanese players and the second phase coming in October to global players.