In conjunction with the game's showcase at Tokyo Game Show 2014 this week, Bandai Namco has unveiled a new trailer for the upcoming game Dragon Ball XENOVERSE:
The 60-second promotional video starts out with typical scenes of Dragon Ball characters fighting, but midway through things turn more ominous. We hear Trunks say that history is changing, and space/time itself is warping. The text mentions a "god who governs time" and a "battle throughout time". The "Dragon Ball" everyone already knows and loves is in danger! What does that mean? In concrete terms, we see that famous moments from throughout the series are being changed for the worse. Raditz dodges Gohan's attack (his eyes mysteriously glow red as he does so), leaving Goku to get killed by Piccolo's Makankōsappō. Boo gets the jump on Super Saiyan 3 Goku, and Cell sports the same red eyes as Raditz. The text also describes a "warrior of hope" summoned by Shenlong. That warrior is…you! In other words, you are the customizable player character original to the game. Trunks explains to the player character that the two of them must personally correct the "changes to history" and restore the original outcomes of events. The trailer wraps up by showing the player character and Trunks fighting alongside Goku and friends in major battles from the series.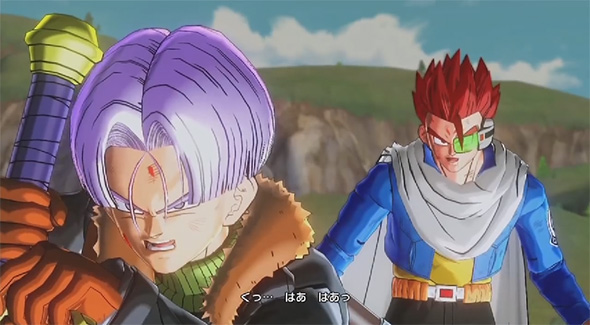 The PlayStation 4 version of the game is currently on display at the event.
Dragon Ball XENOVERSE — currently in development by Dimps for Bandai Namco — will be released on the PlayStation 4, Xbox One, PlayStation 3, and Xbox 360, though no release date has been set beyond "Early 2015". A network test will be conducted in two phases on the PlayStation 3, with the first coming this weekend for Japanese players and the second phase coming in October to global players.