After originally debuting during a Tokyo Game Show 2014 live video stream in Japanese, Bandai Namco have begun unveiling a special extended trailer across their social media channels to promote the upcoming Dragon Ball XENOVERSE video game:
The promotional video covers the same material as the previously-released 60-second version, but goes on to showcase your potential avatar characters using signature techniques from the Dragon Ball cast, a plethora of customizable clothing options, the Toki Toki City hub, as well as a glimpse at the new antagonists, Towa and Mira. Types of matches available to players will include 1-vs-1 up to 3-vs-3.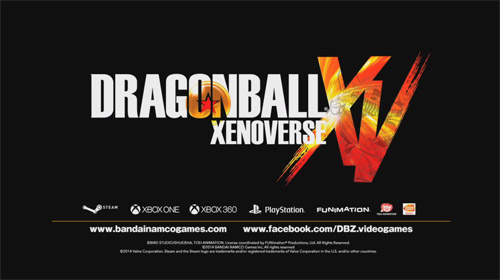 Dragon Ball XENOVERSE — currently in development by Dimps for Bandai Namco — will be released on the PlayStation 4, Xbox One, PlayStation 3, Xbox 360 and PC some time in early 2015, though no concrete release date has been set. A network test will be conducted in two phases on the PlayStation 3, with the first happening over the weekend for Japanese players and the second phase coming in October to global players.