After several weeks of teasing a new initiative that would "surpass" Shōnen Jump, Shueisha has unveiled their new "Shōnen Jump+" project.
The new "Shōnen Jump+" app — available for iOS, Android, and PC viewing — provides access to a digital version of Weekly Shōnen Jump day-and-date with the print edition. Individual issues (which lack the ads and product spotlights of the print version, but instead include bonuses like colorized chapters and other extra content) are available for ¥300 each or a ¥900/month subscription. Subscriptions also include the latest issue of Jump NEXT!!, a special edition of Jump that is released every few months.
In addition to all of the above (the "Plus" in the title), the app also features over 25 titles for free. New entries revealed thus far include one-shots from well-known Jump artists, new app-exclusive series, material previously serialized through the "Jump LIVE" app (such as ēldLIVE and Rough Diamond), and at least one series that ran in Saikyō Jump prior to its bimonthly revamp (Fuwari! Don Patch, Yoshio Sawai's gently-paced slice-of-life spinoff of Bobobo-bo Bo-bobo).
Additionally, readers will be able to check out chapters of selected past hits like Dragon Ball (which appears to be two chapters at a time, starting from Volume 36).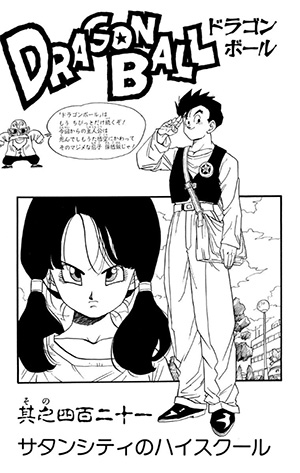 "Shōnen Jump+" currently offers the latest issue (2014 #43) with back issues going back to June's 2014 #27 issue (available for individual purchase only).
After shuttering their monthly print publication, Viz launched their English-language "Shonen Jump Alpha" online product in 2011 with series delayed two weeks behind their Japanese counterparts. The company moved to a day-and-date digital version of "Weekly Shonen Jump" in 2013 which has included publication of Jaco the Galactic Patrolman and the "Full Color" edition of the Dragon Ball manga. While Shueisha has previously offered certain issues of the Japanese Weekly Shōnen Jump (such as the 45th Anniversary issue in 2013) through the "Jump Book STORE!" app, this marks the first time that the company has attempted a regular digital edition of one of its manga anthologies.