Amazon has updated with cover art and a description for Viz's collected, English-translated edition of Akira Toriyama's Jaco the Galactic Patrolman: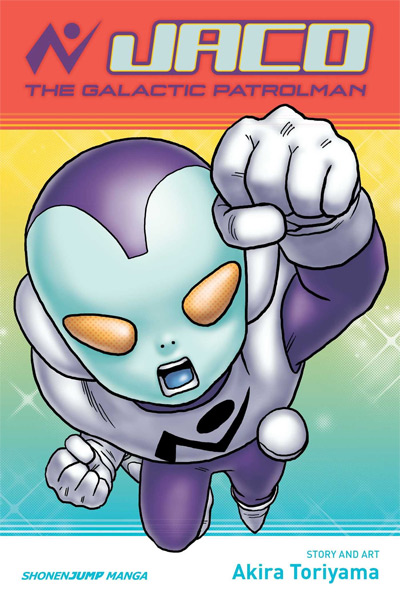 Akira Toriyama, manga legend and creator of Dragon Ball Z, is back with the quirky comedy Jaco the Galactic Patrolman! Retired scientist Omori lives alone on a deserted island while continuing his research into time-travel. His quiet life is interrupted when galactic patrolman Jaco crash-lands and decided to move in with him. Can Jaco get along with the old man long enough to save the earth from a dangerous threat? Includes a special bonus chapter introducing Dragon Ball Z hero Goku's parents!
The cover art spruces up the standard edition's cover art from Japan, rather than using the new illustration from the "Super Elite Edition".
Jaco the Galactic Patrolman debuted as the "…shocking revival of Dragon Ball" and told the story of a galactic patrolman's mission on Earth before winding its way into the main Dragon Ball story. Viz originally printed all of the series' chapters digitally as a simultaneous release with its Japanese print edition back in 2013.
Their English translation arrives in print 06 January 2015 for $8.99. It will also be released the same day in a collected digital edition. The collected edition will include the original 11 chapters along with "Dragon Ball Minus", a bonus chapter from its Japanese collected release.
Thanks to medama_oyaji for the heads-up!