Akira Toriyama has drawn an image of Sun Wukong, the legendary monkey king from Journey to the West, in support of and acting as the basis of the Japanese promotional poster for Stephen Chow's 2013 film adaptation of the same story.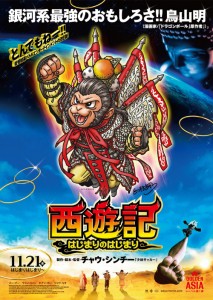 Toriyama has also commented on the film, heaping effusive praise on what he views as the greatest work of pure cinematic entertainment in recent memory:
予想と常識の壁を遥かに超えてみせる
銀河系最強のおもしろさ!!

久々に完璧な娯楽映画を観ました!
些細な部分など、どうでもいいと思わせる強烈なエネルギー!
マジとギャグの見事な使い分け!堂々とした安っぽさの演出!計算されたストーリー展開!
これこそがボクの理想とする娯楽映画の最高峰であります!
お世辞を言ったところでボクに得があるわけでもないので
けっして大げさな表現でもなんでもありません。
ボクは職業柄、映画を観ていても、つい先の展開を考えてしまったりする
悪いクセがあるのですが、この映画に関しては有名な『西遊記』がモチーフで
あるにもかかわらずまったく予想ができませんでした。
映画のセオリーやルールのようなくだらない概念だって通用しないのです。
この素晴らしい裏切りの末、きっちりと壮大で新しい本場ならではの『西遊記』になっているし、
監督のいつものテーマである「愛」と「小さなギャグ」も貫かれていることに感激します。
監督の情熱のまま、思いどおりに完成させたことが画面からバシバシ伝わってきます。
興行成績を優先するあまり観客に媚び、映像ばかりがすごくて内容といえば
チャレンジ精神も個性も希薄な大作映画ばかりが氾濫する中で、このことだけでも、
小気味良さにどれほど感激したことか!
もう、どう表現していいか解らないぐらい最高の『西遊記』でした!!
ちなみに、キャラクターの個性や役者さん達の人選も素晴らしく、
特に最初イメージ的に意外にも思える孫悟空の役者さんの
演技の巧みさには感心させられました。

鳥山明

---

The mightiest fun in the galaxy,
far surpassing the walls of expectations and common sense!!

This is the first perfect popcorn-movie I've seen in a long time!

Intense energy that makes you not care about the trivial details! Masterful allocation of seriousness and comedy! Shamelessly cheap-looking staging! Calculated story developments! This is the pinnacle of my ideal in popcorn-movies! I have nothing to gain through this flattery, so it's 100% no exaggeration, no nothing.

Due to the nature of my profession, I have a bad habit where when I watch a movie, I always end up thinking about subsequent plot developments, but in spite of this movie having the motif of the famous Journey to the West, I couldn't predict where it was going at all. Not even stupid established concepts like film theory or rules hold true. As a result of this wonderful betrayal, it is a properly magnificent, new Journey to the West that only its birthplace could deliver, and I'm positively moved at how it's punctuated by the director's usual themes of "love" and "little gags".

It really comes across on the screen that the director was able to complete the movie exactly according to his passion and vision. When we're inundated with big blockbuster movies that are all long on visuals but short on ambition or individuality, pandering to audiences for the sake of box-office earnings, how thrilled I would have been at its delightfulness for this fact alone! It was just the greatest Journey to the West, so much so that I don't even know how to express it!!

Incidentally, the characters' individual traits and the casting of the actors were also wonderful, and I was especially impressed at the acting skill of the person who played Sun Wukong, who at first could seem like an unexpected choice, appearance-wise.

–Akira Toriyama
Thanks to tinlunlau for passing along Toriyama's comments.
Toriyama's own Son Goku — whose name is simply the Japanese reading of the same name in Chinese, Sun Wukong (孫悟空) — is one of Dragon Ball's obvious, early parallels to Journey to the West. Goku's Nyoi-bō and Kinto-un are also adapted wholesale from the novel. Other direct equivalents include Bulma taking the place of the traveling priest Xuanzang, while Oolong takes the place of the lecherous pig monster Zhu Bajie.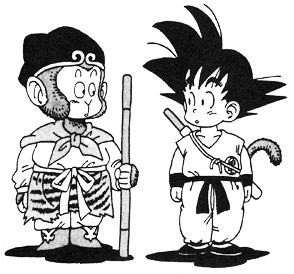 Stephen Chow's Journey to the West: Conquering the Demons is available to North American Netflix viewers, and is also available on Blu-ray and DVD.