The official website for Jump Festa '15 has updated with a schedule overview featuring the cast and panel members for each showcase. The "One Piece x Dragon Ball Panel" is scheduled for Saturday, 20 December 2014, from 4:40 to 5:20 p.m.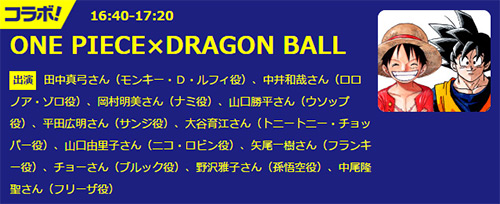 Panelists set to appear include:
Masako Nozawa (Son Goku, Dragon Ball / Dr. Kureha, One Piece)
Ryusei Nakao (Freeza, Dragon Ball / Caesar Clown, One Piece)
Mayumi Tanaka (Kuririn, Dragon Ball / Luffy, One Piece)
Kazuya Nakai (Zoro, One Piece)
Akemi Okamura (Nami, One Piece)
Kappei Yamaguchi (Goku [JP dub voice], Dragon Ball Evolution / Usopp, One Piece)
Hiroaki Hirata (Sanji, One Piece)
Ikue Otani (Chopper, One Piece)
Yuriko Yamaguchi (Robin, One Piece)
Kazuki Yao (Franky, One Piece)
Chō (Brook, One Piece)
Among the other guests, Nozawa and Tanaka provided quotes in anticipation of the event:
野沢雅子さん(孫悟空役)
オッス オラ悟空!オラと一緒に楽しもうぜ。みんなさそって来てくれよな。よろしくね。待ってるよ!

---

Masako Nozawa-san (Voice: Son Goku)
Heya! I'm Goku! Let's have fun together. Invite everybody along, OK? I appreciate it. I'll be waiting for you!
田中真弓さん(モンキー・D・ルフィ役)
みんなに会えるのが楽しみでたまらねぇ!ゴムゴムのバビューンで飛んで行くぜ!

---

Mayumi Tanaka-san (Voice: Monkey D. Luffy)
I'm looking forward to seeing everyone so much, I can't stand it! I'm gonna fly over there with a Gum-Gum Boyooiinng!
While the content of the panel itself has yet to be publicized, the presence of the voices of Goku, Kuririn, and a certain villain whose name starts with "F" all but guarantees that the subject will turn to the upcoming 2015 theatrical movie. We will be sure to update with more information as it becomes available.
Thanks to Peking Duck for the heads-up!