The fourth — and likely final — Japanese ending theme for the Majin Boo arc of Dragon Ball Kai has been announced: "GALAXY" by Kyūso Nekokami, who takes their name from an accessory item in Final Fantasy X-2.
The space-themed song will be included on the band's next album, Happy Ponkotsu Land ("ponkotsu" being slang for striking something with your fist, or a battered/worn-out item). The album will release 14 January 2015 in Japan.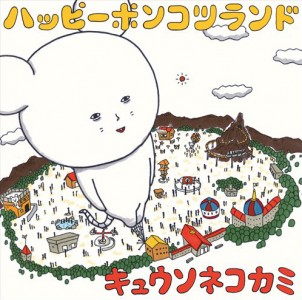 The song itself will be used as the ending theme for the Dragon Ball Kai arc beginning in January, but will debut before that 14 December 2014 on the radio program "MUSIC FREAKS" on FM802, where vocalist/guitarist Seiya Yamasaki is a DJ.
The album will contain seven songs, including "OS" (for which there is already a video), "Scary song" (with a "ghost" motif), and "Yō suru ni akita" ("In short, I'm sick of you/it", on the theme of divorce).
GALAXY
OS
Scary song
Hinkon Bijinesu ("Poverty Business")
Yō suru ni akita ("In short, I'm sick of you/it")
Yusha Rotoshikku ("The Hero, Lotosik")
Nanmanda
The first pressing limited edition version of the album will come with a DVD which will contain a digest version of their summer tour and backstage footage, with an alternate audio track with member commentary.
The album's artwork will be provided by Shunjū Aono, whose most well-known work is "Ore wa mada honki dashite 'nai dake" ("I just haven't gotten serious yet, that's all"), which was popular enough to receive a live-action movie in 2013. The illustration for the jacket is of a surreal world.
No CD single is currently announced for the song. The regular edition of the album (VICL-64268) will retail for ¥1,000, while the limited edition version with the bonus DVD (VIZL-761) will retail for ¥2,400. Both versions are currently available for pre-order at CDJapan.
"GALAXY" will be the sixth ending theme for the Japanese broadcast of the "refreshed" series overall, following "Yeah! Break! Care! Break!" by Dragon Soul (1-54), "Kokoro no Hane" by Team Dragon from AKB48 (55-98), "Dear Zarathustra" by Good Morning America (99-111), "Junjō" by Leo Ieri (112-123), and "Oh Yeah!!!!!!!" by Czecho No Republic (124-present).