Despite originating on Japanese TV earlier this year, the special extended edition of the 2013 theatrical Dragon Ball Z film, Battle of Gods, has thus far only been released in select international markets (namely North America via FUNimation).
The Japanese market will finally receive their own version, with the extended edition hitting DVD and Blu-ray 13 March 2015.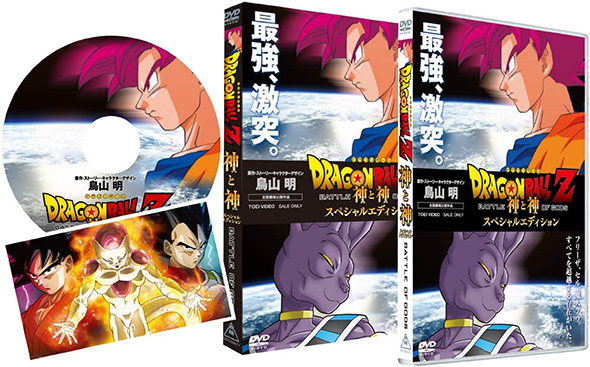 Each version comes packed with a special sleeve for the disc as well as an original post card featuring art from the upcoming 2015 Dragon Ball Z theatrical film, Revival of 'F'.
In all likelihood, the Japanese edition will be the only home release of the extended edition to feature FLOW's two musical contributions ("Hero: Song of Hope" and "CHA-LA HEAD-CHA-LA") in their original Japanese language; even in the Japanese language track on FUNimation's and other international distributors' releases, English versions performed by FLOW themselves are used.
The Japanese DVD (¥3,800 + tax) and Blu-ray (¥4,800 + tax) versions of the extended Battle of Gods are up for pre-order on CDJapan and Amazon Japan.