This week's February 2015 issue of V-Jump brings the regular print serialization of Dragon Ball Heroes: Victory Mission to a close. After 27 monthly chapters in the magazine, the promotional manga from "Toyotarō" moves over to archived, unlockable bonus content within Shueisha's Shōnen Jump+ smartphone and PC app. All 28 chapters are digitally available in the current February 2015 issue of V-Jump+, which will remain unlockable via a code in the corresponding V-Jump issue until the end of January. From February onward, this content will be available only to those who unlocked it prior to the deadline.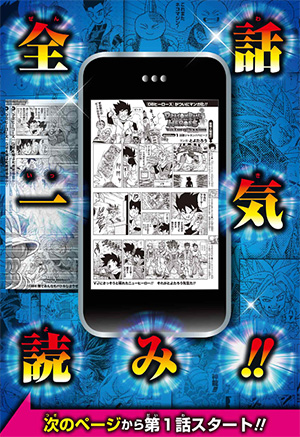 In chapter 28 — "Dark Dragon" (ダークドラゴン Dāku Doragon) — Beat continues to train with Sora in the "White Room", while in the Battlefield, the other Heroes come to realize that with the time-space transporter offline, a knockout in the game should have mortal consequences outside it. Broli didn't deliver a knockout; he merely put them out of it. Which means… they were deliberately spared?
Genom appears before the others, but before they can try to free him from the Evil Dragons' control, he reveals that he is not under the control of anyone: in fact, he he is the one in control. He tells them to get ready for a fantastic show: he had intended to leave them alive, but now the circumstances have changed, and he needs to kill them in order to obtain the One-Star Ball. However, Kagyu reveals that Genom is missing one more: the Four-Star Ball! Back when Broli suddenly appeared, Kagyu helped save the Dragon's life, and as a token of gratitude, it handed over the Dragon Ball. In Kagyu's hand, the Dragon Ball transforms into a card, which reveals the Four-Star Dragon himself! Both the Dragon that was defeated by Broli, and the Dragon Ball Broli obtained, were fakes. At Kagyu's signal, they prepare a new Card Action Ability: "Dark Dragon"! A huge energy blast hurtles towards Genom, who was obviously not expecting this turn of events.
The series is going on hiatus "for a while" and its return will be announced in V-Jump proper. There is no word on whether or not "Toyotarō" is working on anything else in the meantime, or if the comic will wait for the next major update to Dragon Ball Heroes to pick back up again.
Dragon Ball Heroes: Victory Mission began in the November 2012 issue of V-Jump as a two-page, seemingly-one-off promotional mini-manga for the card-based arcade game. As the months went on, the chapters expanded to more pages and began directly continuing onward from each other into a traditional, serialized story. New cards, techniques, and characters from the arcade game often showed up in the manga months ahead of time to help promote new updates and campaigns.
"Toyotarō" is, in all likelihood, a second pen-name used by Dragon Ball AF fan manga author and illustrator "Toyble".