Today's February 2015 issue of V-Jump in Japan drops an array of details regarding the upcoming Dragon Ball XENOVERSE video game.

Towa uses her dark magic to make Goku's past enemies even more brutal. This is the trigger to the altering of history…?!
Super 17, a villain from the near-final portion of the anime-only Dragon Ball GT TV series, will also make an appearance in Dragon Ball XENOVERSE. Included in his moveset will be his "Lightning Hell Sphere", which he also used in the TV series.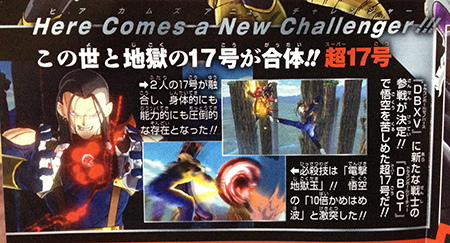 Dragon Ball XENOVERSE will feature an original animated sequence at the start of the game, which will depict Trunks' decision to summon the player character via Shenlong. Towa, Mira, and the Kaiōshin of Time are also seen in the screenshots provided.

The next issue promises an "all-out super feature" on the game a mere two weeks before its release.
The game's official website also recently updated with information regarding its timeline and placement in the overall "Age" calendar for Dragon Ball: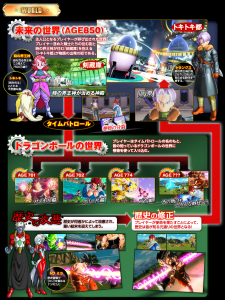 The "world of the future" (Age 850) is the world the player character is summoned to. Toki-Toki City is the story's starting point; lots of warriors (including the player) live there, and the city is home to the time vault and the Kaiōshin of Time (the Kaiōshin who governs time, and is 75 million years old). Toki-Toki is a mysterious bird, said to create time. Trunks is under orders from the Kaiōshin of Time to travel to various time periods throughout Dragon Ball's history. The player travels through time as part of the Time Patrol to fix anomolies. The website also states that Towa and Mira are collecting "kiri" via history-breaking.
The game appears to use Age 850 as the future setting instead of Dragon Ball Online's Age 1000; this makes it 100 years after the start of the series (rounding up a bit from Age 749).
The February 2015 issue of V-Jump, Shueisha's ostensibly-video-game-focused magazine in Japan, hits Japanese shelves today (20 December 2014) and is available to order at CDJapan, Play-Asia, and Amazon Japan.
Dragon Ball XENOVERSE — currently in development by Dimps for Bandai Namco — will be released on the PlayStation 4, Xbox One, PlayStation 3, Xbox 360 and PC. The game will release for the four consoles 05 February 2015 in Japan, 13 February 2015 in Europe, and 17 February 2015 in the Americas. The PC version seems to be on track for a global release via Steam 17 February 2015.