This week's February 2015 issue of V-Jump in Japan contains slightly new information regarding Fukkatsu no "F" ("Revival of 'F'"), the upcoming theatrical Dragon Ball Z movie.
The subject of moderate confusion among fans when the film's poster was debuted, the character in the green track suit is formally unveiled as Gohan (though the official website's image filenames had perhaps inadvertently revealed his identity). Gohan is described, accompanied by character design sketches by Akira Toriyama: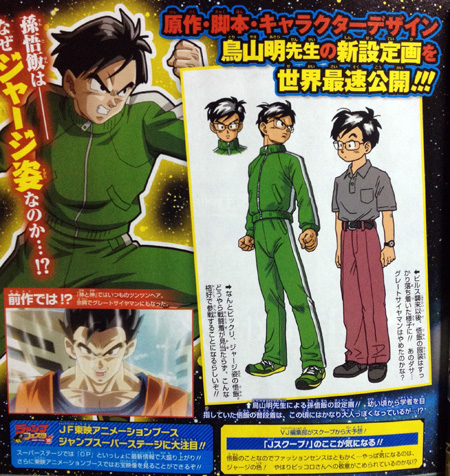 ビルス襲来以後、悟飯の服装はすっかり落ち着いた様子に!! あのダサ… グレートサイヤマンはやめたのかな?

なんとビックリ、ジャージ姿の悟飯。どうやら戦闘着が見当たらず、こんな格好で参戦することになるらしいぞ!!

---

After Beerus attacked, Gohan's clothing has become thoroughly subdued!! Did he give up that stupid-looking— …er, Great Saiyaman, we wonder?

Gohan in a tracksuit is quite the surprise. At any rate, apparently he can't find his fighting clothes, so he ends up joining the battle looking like this!!
The magazine's commentary, like that in Saikyō Jump earlier this month, also draws attention to the color of Gohan's tracksuit, speculating that it might be a sign of respect towards Piccolo. A small blurb on the page accompanied by a screen from Battle of Gods simply notes that Gohan has spiky hair in that movie, and even became Great Saiyaman as entertainment. No mention is made of a Super Saiyan transformation.
The February 2015 issue of V-Jump, Shueisha's ostensibly-video-game-focused magazine in Japan, hit Japanese shelves 20 December 2014 and is available to order at CDJapan, Play-Asia, and Amazon Japan.
The annual Jump Festa event was also held over the past weekend, and Saturday afternoon's joint One Piece / Dragon Ball panel revealed a few new tidbits about the movie. According to reports from attendees, the movie's dialogue has not yet been recorded. Nevertheless, the film will apparently show Kuririn as a police officer (!), and Freeza training for the first time in his life in order to become more powerful. Notably absent, however, will be Goku's Super Saiyan form; he apparently does without it for the entirety of the movie, echoing comments from creator Akira Toriyama made last year and earlier this year. Masako Nozawa (Goku) and Ryūsei Nakao (Freeza) are also said to have exchanged lines in character, although the contents of said exchange (if relevant to the film) have not been reported outside the event.
The story for Revival of "F" is being crafted by original manga author Akira Toriyama, who stated he is writing it, "…as though it were a continuation of the manga when it was in serialization," and that while it will, "…of course be a continuation of the previous Battle of Gods," he has also, "…deliberately increased the amount of action scenes by a good deal." Tadayoshi Yamamuro, who worked for many years as character designer and animation supervisor on the Dragon Ball franchise, will serve as the film's director and animation supervisor. Norihito Sumitomo will return from Battle of Gods and the Majin Boo arc of Dragon Ball Kai for musical composition duties. Revival of "F" is set to bring back Freeza and will also include two new characters (Sorbet and Tagoma), feature Beerus and Whis again from Battle of Gods, and much more.
Revival of "F" opens 18 April 2015 nationwide in Japan in 2D and 3D.