In conjunction with Jump Festa, the American and European branches of Bandai Namco have confirmed that J-Stars Victory Vs, the Jump-franchise crossover fighting game extravaganza, will receive an international release as a new, updated version in summer 2015: J-Stars Victory Vs+.
Additionally, the game will make the update from PlayStation 3 to PlayStation 4, with both console versions and the Vita release making their way out of Japan.
YATTA! J-STARS Victory VS + is coming to Western audiences for the PlayStation®4, PlayStation®3 and the PlayStation®Vita. The game will feature Manga/ Anime characters from over tons of different Shonen Jump franchises including ONE PIECE, NARUTO, BLEACH, DRAGON BALL Z and much more.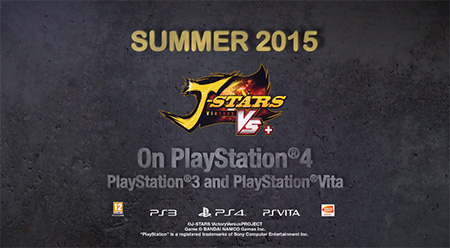 The company's American branch notes on Tumblr that a new "arcade mode" will be coming to the game, with no mention made of what might happen with the original version's multi-character story mode:
Yes. You can get excited. It's official. The 2v2 brawler that features an insane roster filled with Shonen Jump's manga stars, J-Stars Victory VS+, is coming to the Americas and will be hitting PlayStation 3, PlayStation Vita, AND for the first time ever, PlayStation 4. Also, with the first release outside of Japan, J-Stars will have an additional "Arcade Mode" coming with it's Western debut. Check out the teaser trailer and stay tuned for more information!
The game, originally released back in March in Japan, features Son Goku, Vegeta, and Freeza from Dragon Ball, — not to mention Arale from Dr. Slump and her various Dragon Ball cameos! — along with a wealth of other playable and support characters from different series.