Dragon Ball Online somehow had both a longer and shorter life than it could have had. Starting with an open beta in 2010, the Korean MMORPG made its way to a few other territories and localizations before winding down last year, never actually making it to either Japanese or English localizations. The game brought fans a new, rich history for the franchise that spanned the entire "Age" calendar that we were already familiar with as well as onward into a new future with involvement from original manga author Akira Toriyama.
Despite the game's closure, the wealth of new characters, locations, and scenarios will live on via Dragon Ball XENOVERSE, the upcoming fighting game on consoles and PCs from Dimps and Bandai Namco (not to mention in the upcoming major update to the card-based arcade game, Dragon Ball Heroes, which hits Spring 2015).
However, before Dragon Ball Online actually shut down, there were clear plans for additional content patches that would further the battle against Mira and Towa's "history breaking" along with introducing even more characters. We may never know the true extent of these plans!
That being said, this past July, Bandai Namco presented information about Dragon Ball XENOVERSE to press and fans at Japan Expo in France. Included as part of the presentation was a mysterious figure in silhouette against what we now know as Toki-Toki City and the "Time Storage Vault" with a statement that "…a bunch of new characters" apart from the player's own "Future Warrior" character will also be showcased: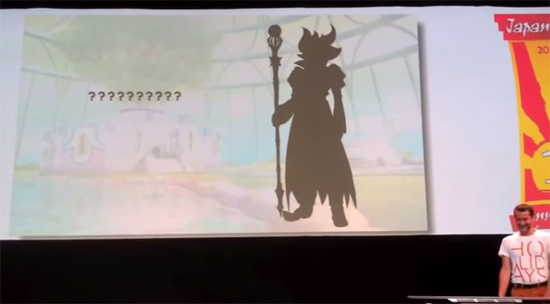 Bon bah voilà, donc histoire de non pas vous révéler qui est le premier personnage, mais encore de vous faire parler, de vous faire demander qui sont les autres personnages, il nous a ramené juste la silhouette du prochain sur lequel ils vont révéler des informations. C'est un peu des salauds, c'est un peu des… ils sont limite sadiques sur les bords. Mais vous aimez ça et de toute façon, vous allez avoir les informations très rapidement. Ce qu'on peut vous dire, c'est que tout est lié, ces deux personnages, et tout le reste qui a été dit, les deux sont liés à cette image que vous avez peut-être vu passer dernièrement, qui sont un endroit un peu particulier qui s'est arrêté dans le temps et qui va avoir un rôle majeur dans toute la nouvelle histoire qui est abordée dans ce Dragon Ball Z: XENOVERSE.

---

Okay, there we are: he's still not going to reveal who the first character is, but just to make you talk and to make you ask questions about the other characters, he brought us only the shadowy figure of the next character on whom you'll get some info. They're a bit of bastards, they're a bit… They're a bit sadistic. But you like it that way and you'll have those info very soon anyway. What we CAN tell you, is that everything is connected: those two characters, and everything that's been said earlier, both of them are connected to this picture that you may have seen around lately, which shows a pretty peculiar place that froze in time and that is going to play a major role in all of the new story in Dragon Ball Z: XENOVERSE.
This past September, Bandai Namco conducted a two-phase "network test" for Dragon Ball XENOVERSE on the PlayStation 3 (a Japanese-only phase followed by an international phase). This "test" was part of the company's plan to stress-test the multiplayer aspects of the game, server connectivity, gameplay, and more. As enterprising fans are wont to do, the game data was mined to reveal both expected and unexpected information. One particular close look at the game data revealed special attacks for a character seemingly named "Demigra". A recent leak of purported achievements for the Xbox platforms pin one accomplishment name as "Complete the saga of the Demon God Demigra."
So who — or what — is "Demigra"…?
The characters of Mira (ミラ) and Towa (トワ) have names that evoke the concept of time, with "Mira" likely coming from mirai (未来) or "future", while "Towa" (a native Japanese reading applied to the Chinese-derived compounds 永遠 eien or 永久 eikyū) means "eternity".
"Demigra", however, is confusing (for the time being, anyway!). Nothing comes to mind either as an anagram or with extended-syllables that suggests time. A food pun with "demi-glace" seems to be the most obvious / closest approximation.
Is the mystery character presented over the summer this "Demigra"…? Do we have new gods to add to the hierarchy of the Dragon World? Will the Makaiōshin finally make their formal appearance? With Dragon Ball XENOVERSE a mere two months away, and more reveals almost certainly on the horizon, we may know the secret of "Demigra" sooner than we think!
Dragon Ball XENOVERSE — currently in development by Dimps for Bandai Namco — will be released on the PlayStation 4, Xbox One, PlayStation 3, Xbox 360 and PC. The game will release for the four consoles 05 February 2015 in Japan, 13 February 2015 in Europe, and 17 February 2015 in the Americas. The PC version seems to be on track for a global release via Steam 17 February 2015.
Thanks to our buddy "Cold Skin" for the French translation!