Today's 2015 #6/7 double-issue of Weekly Shōnen Jump in Japan contains a batch of scoops for 2015's upcoming Dragon Ball Z theatrical film, Revival of "F".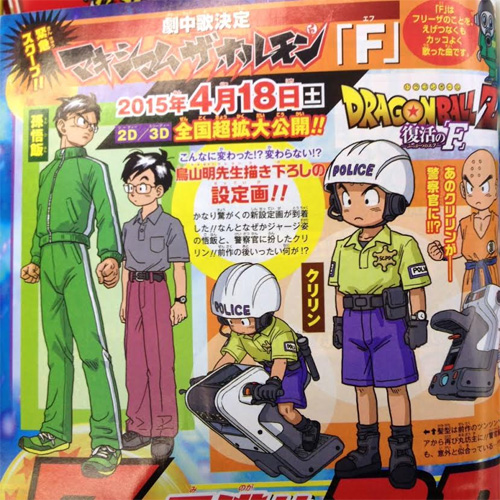 A splash announces that "F" by Maximum the Hormone will appear in the movie as an insert song. Original manga author — and writer for the new film — Akira Toriyama has stated that the band's 2008 song influenced his decision on the film's title.
The magazine mentions the new design for Gohan (previously revealed in the February 2015 issue of V-Jump) as well as a new design for Kuririn:
Some quite surprising design images have arrived!! It's Gohan, who for some reason is in a tracksuit, and Kuririn, dressed as a police officer!! Just what happened after the last movie?!
A further blurb goes on to describe Kuririn's new design:
His hairstyle has gone from spiky in the last movie back to clean-shaven! He also looks surprisingly good in a police uniform.
The letters "SCPD" are also visible on Kuririn's badge; while the text makes no mention of this, it is likely an abbreviation for "Satan City Police Department".
The story for Revival of "F" is being crafted by original manga author Akira Toriyama, who stated he is writing it, "…as though it were a continuation of the manga when it was in serialization," and that while it will, "…of course be a continuation of the previous Battle of Gods," he has also, "…deliberately increased the amount of action scenes by a good deal." Tadayoshi Yamamuro, who worked for many years as character designer and animation supervisor on the Dragon Ball franchise, will serve as the film's director and animation supervisor. Norihito Sumitomo will return from Battle of Gods and the Majin Boo arc of Dragon Ball Kai for musical composition duties. Revival of "F" is set to bring back Freeza and will also include two new characters (Sorbet and Tagoma), feature Beerus and Whis again from Battle of Gods, and much more.
Revival of "F" opens 18 April 2015 nationwide in Japan in 2D and 3D.