Anime News Network reports that the upcoming 2015 #8 issue of Weekly Shōnen Jump in Japan spills the beans on more history-bending hijinks coming to Dragon Ball XENOVERSE.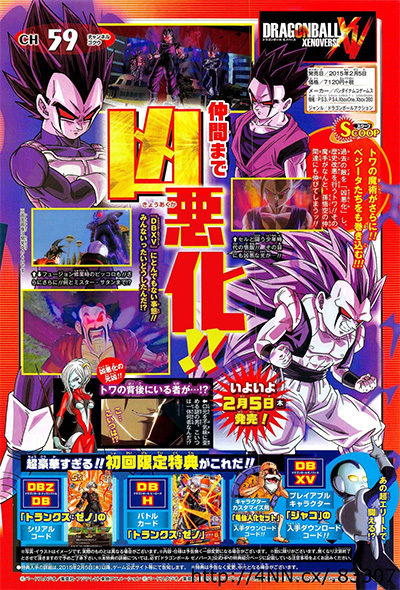 In addition to taking control over and powering-up other villains, Towa's quest to change history for the worse will apparently see even Goku's allies affected. Not even Mr. Satan is immune to this evil power.
A small splash provides our first real look at a new character with a sinister smirk (possibly the mysterious "Demigra"), who stands behind Towa and is apparently the root of these characters' fiendish power-ups.
A splash also reviews the first-press inclusions ("patrol perks") for the game in Japan: a download code to obtain Jaco as a playable character, a download code to obtain a Kame-sen'nin character customization set, the Dragon Ball Heroes card "Trunks: Xeno", and a serial code to obtain "Trunks: Xeno" within the Dragon Ball Z: Dokkan Battle smartphone game.
Dragon Ball XENOVERSE — currently in development by Dimps for Bandai Namco — will be released on the PlayStation 4, Xbox One, PlayStation 3, Xbox 360 and PC. The game is still on track for 05 February 2015 release in Japan, while other territories have shifted slightly (North America to 24 February 2015, and Europe to 27 February 2015, the lattermost of which will also act as the global PC release date).