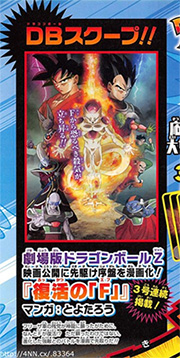 Anime News Network reports that next Wednesday's March 2015 issue of V-Jump will announce a special manga adaptation of the upcoming movie Dragon Ball Z: Revival of 'F', which will be penned by none other than Dragon Ball Heroes: Victory Mission author "Toyotarō". The adaptation will cover the beginning of the movie and will be split into three parts and will run in consecutive issues of V-Jump, starting with next month's April 2015 issue.
Victory Mission itself was moved from the print magazine to "V-Jump+" digital bonus content via the Shōnen Jump+ app as of the February 2015 issue, then was announced to be going on hiatus for an unspecified timeframe. This announcement appears to explain the reason for that series' break.
For Dragon Ball Z: Battle of Gods (the 2013 film), Dragon Ball SD author Naho Ooishi drew a 12-page adaptation that was published in the April 2013 issue of Saikyō Jump (and subsequently included in the second collected volume), which also covered just the beginning of the film. Toyotarō himself, meanwhile, penned a single-page gag comic accompanying the interview with him and Ooishi in the May 2013 issue of V-Jump, in which the main characters of Victory Mission are thrown into the movie in-progress. Even earlier than that, Naho Ooishi drew a two-part manga adaptation of the 2008 Jump Super Anime Tour special, which ran in the May and June 2009 issues of V-Jump.
"Toyotarō" himself is likely another name for the artist "Toyble", who draws a popular dōjinshi (self-published fan comic) borrowing the mythical "Dragon Ball AF" name. Toyble's output has slowed to a virtual standstill since the start of Victory Mission, lending support to the belief that he and "Toyotarō" are one and the same.
The story for Revival of "F" is being crafted by original manga author Akira Toriyama, who stated he is writing it, "…as though it were a continuation of the manga when it was in serialization," and that while it will, "…of course be a continuation of the previous Battle of Gods," he has also, "…deliberately increased the amount of action scenes by a good deal." Tadayoshi Yamamuro, who worked for many years as character designer and animation supervisor on the Dragon Ball franchise, will serve as the film's director and animation supervisor. Norihito Sumitomo will return from Battle of Gods and the Majin Boo arc of Dragon Ball Kai for musical composition duties. Momoiro Clover Z will contribute a song alongside Maximum the Hormone, whose "F" will be used as a "battle song" during the film. Revival of "F" is set to bring back Freeza and will also include two new characters (Sorbet and Tagoma), feature Beerus and Whis again from Battle of Gods, and much more.
The March 2015 issue of V-Jump will also both announce and provide a chance to enter a preview screening for the new movie.