Today's March 2015 issue of V-Jump in Japan provides a slew of details on the upcoming Dragon Ball XENOVERSE video game.
After a brief explanation of how to start playing (creating a character, being transported to Toki Toki City, and starting the mission), the magazine lays out some heavy news.
Most significantly, we receive a full-body character design for the mysterious villain teased earlier this week in Weekly Shōnen Jump (likely "Demigra"). While not stated outright, as it was in in Weekly Jump, this character is implied to be at the root of Towa and Mira's various alterations to history.
The same page also brings us images of that altered history, including Ōzaru Vegeta and Nappa on Earth, a fight against Raditz where only Goku is killed, and a Ginyu Special Force with Vegeta taking the place of Ginyu. The same images of allies with red eyes and markings on their faces which was seen in Weekly Jump makes its reappearance here, as well.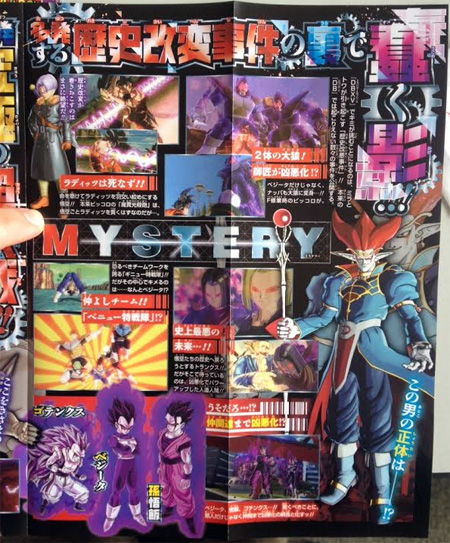 Super Saiyan 4 Gogeta and Super Yi Xing Long (the Super One-Star Dragon) from Dragon Ball GT will also be making an appearance in-game. Both characters were recently added to Dragon Ball Heroes for the eighth phase of its "Evil Dragon Mission" iteration. While Heroes itself is not available outside Japan, the inclusion of these characters here is likely to please fans worldwide.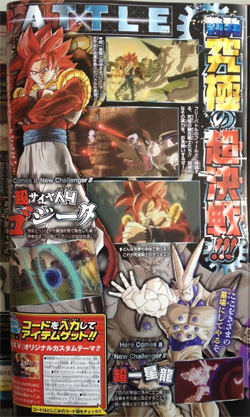 Finally, an official strategy guide has been announced for release the same day as the game in Japan. Dragon Ball Xenoverse: Historia Guardians' Guide!! will cover the game in detail, and will also contain two bonus codes. The first will unlock Super Saiyan 4 Vegeta — who is a preorder bonus in most territories outside Japan — as a playable character, while the second will unlock a digital copy of the book on the "ShōnenJump+" app to read on the go.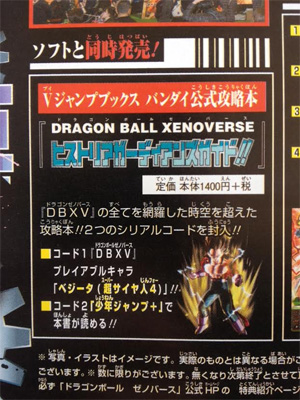 Dragon Ball XENOVERSE — currently in development by Dimps for Bandai Namco — will be released on the PlayStation 4, Xbox One, PlayStation 3, Xbox 360 and PC. The game is still on track for 05 February 2015 release in Japan, while other territories have shifted slightly (North America to 24 February 2015, and Europe to 27 February 2015, the lattermost of which will also act as the global PC release date).