This week's March 2015 issue of V-Jump in Japan provides a slew of updates regarding preview screenings for the upcoming films, Dragon Ball Z: Revival of "F".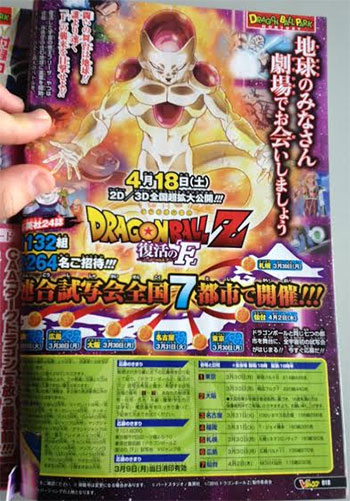 Screenings are set for seven cities across Japan, for one day each, between 30 March and 02 April — the earliest of these being nearly three weeks prior to the nationwide opening of 18 April. 1132 lucky recipients will get an invitation good for two to attend, for a grand total of 2264 attendees across all venues. Dates, cities, venues, and total attendees for each location are as follows:
30 March:
Sapporo, Hokkaido (Sapporo Cinema Frontier): 160 pairs (320 attendees)
Tokyo (Shinjuku Wald 9): 214 pairs (428 attendees)
Osaka (Umeda Burg 7): 220 pairs (440 attendees)
Hiroshima (Hiroshima Wald 11): 135 pairs (270 attendees)
31 March:
Nagoya, Aichi (109 Cinemas Nagoya): 128 pairs (256 attendees)
Fukuoka (T-Joy Hakata): 160 pairs (320 attendees)
02 April
Sendai, Miyagi (MOVIX Sendai): 115 pairs (230 attendees)
Readers of 24 different Shueisha magazines, including this month's March 2015 issue of V-Jump, can enter for a chance to go by cutting out the included entry ticket and sending it attached to a 52-yen postcard with their desired venue, name, address, age, profession (or year in school), and telephone number to the supplied address. Entries must be postmarked by 09 March. No limit on entries is specified, although since each entry ticket must be an original and not a photocopy, multiple entries will require purchases of multiple magazines. (I myself have sent in eight thus far.)
Winners "will be notified upon receipt" of invitations, presumably around the third week of March. We will certainly keep you posted if we have any luck in getting ourselves into a screening…!
The story for Revival of "F" is being crafted by original manga author Akira Toriyama, who stated he is writing it, "…as though it were a continuation of the manga when it was in serialization," and that while it will, "…of course be a continuation of the previous Battle of Gods," he has also, "…deliberately increased the amount of action scenes by a good deal." Tadayoshi Yamamuro, who worked for many years as character designer and animation supervisor on the Dragon Ball franchise, will serve as the film's director and animation supervisor. Norihito Sumitomo will return from Battle of Gods and the Majin Boo arc of Dragon Ball Kai for musical composition duties. Momoiro Clover Z will contribute a song alongside Maximum the Hormone, whose "F" will be used as a "battle song" during the film. Revival of "F" is set to bring back Freeza and will also include two new characters (Sorbet and Tagoma), feature Beerus and Whis again from Battle of Gods, and much more.