Momoiro Clover Z, the idol group previously revealed to be providing the main theme for the 2015 movie Dragon Ball Z: Revival of "F", made an appearance in Tokyo today to announce that they will also be lending their voices to the film. All five members of the group will be playing "an important role", voicing angels tasked with keeping Freeza captive in Hell. The group gave a sneak-peek of their characters, who are color-coded identically to their real-life counterparts, and appear among a variety of cuddly creatures in Hell. These angels heavily resemble the character Gatchan from Dr. Slump (who also appears in Dragon Ball during the Red Ribbon Army arc); Gatchan is, in fact, an angel, as is revealed late in Dr. Slump. (At the same time, however, the God of that series has nothing to do with the divine characters of Dragon Ball, and instead serves as the model/inspiration for Kame-Sen'nin.)
The group appeared dressed in the uniform of the Turtle School, alongside Masako Nozawa (voice of Son Goku) and a life-size version of the character in his outfit from the film. Members Reni Takagi and Kanako Momota went one step further and dressed as Kuririn and Super Saiyan Goku, respectively. Shiori Tamai joked that "this always happens when [Momota] gets into leader battle mode", while Momota herself said that she "[felt] more powerful". Takagi said she felt pumped, and joked that she now wanted to do a live-action version. The group members all expressed their enthusiasm for the project, while Ayaka Sasaki, having previously performed in Saint Seiya: Legend of Sanctuary, promised to try and take the lead with the others (with Momota needling her in turn for her presumptuousness).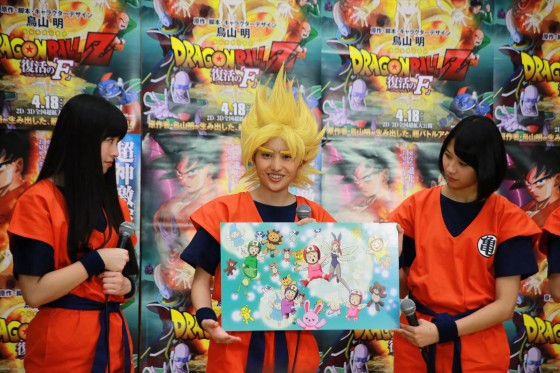 Having first met Momoiro Clover Z at a cherry blossom viewing held by the Japanese prime minister in April 2013, even going so far as having her picture taken with them, Masako Nozawa herself welcomed their roles in the new film, saying that they were "already part of the Dragon Ball family" to her. She also gave the novice voice-actors among the group some pointers about how to approach their performance.
With today being the third of February, a traditional festival day known as Setsubun in Japan, all present then proceeded to perform a traditional "bean-scattering" ritual, with Freeza standing in for the customary Oni. Although they gave their all, the tyrant was ultimately too powerful to be driven from the stage.
The event closed out with a photo-up where all present gave Goku's signature Kamehameha technique, similar to the open recording session for Battle of Gods in 2013 with guest voices Shōko Nakagawa (Oracle Fish) and Kaori Matsumoto (Motorcycle Cop). Nozawa praised the script for the new movie, saying, "It will betray expectations in a good way. It's the best, just as you'd expect of [Toriyama] Sensei. It's fun." Takagi declared that she would be going to see the movie even if she had to pay for it herself.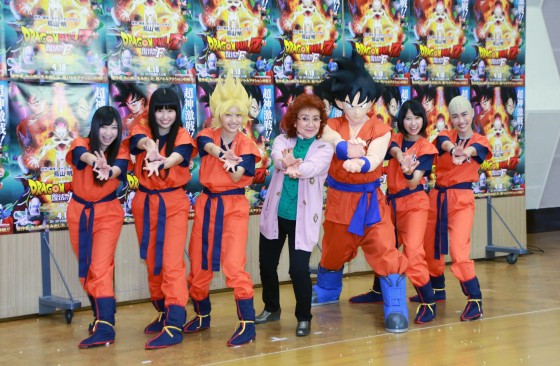 The story for Revival of "F" is being crafted by original manga author Akira Toriyama, who stated he is writing it, "…as though it were a continuation of the manga when it was in serialization," and that while it will, "…of course be a continuation of the previous Battle of Gods," he has also, "…deliberately increased the amount of action scenes by a good deal." Tadayoshi Yamamuro, who worked for many years as character designer and animation supervisor on the Dragon Ball franchise, will serve as the film's director and animation supervisor. Norihito Sumitomo will return from Battle of Gods and the Majin Boo arc of Dragon Ball Kai for musical composition duties. Momoiro Clover Z will contribute a song alongside Maximum the Hormone, whose "F" will be used as a "battle song" during the film. Revival of "F" is set to bring back Freeza and will also include two new characters (Sorbet and Tagoma), feature Beerus and Whis again from Battle of Gods, and much more.