The European branch of Bandai Namco provided an extensive live stream of Dragon Ball XENOVERSE earlier today, showcasing various story and versus battle modes.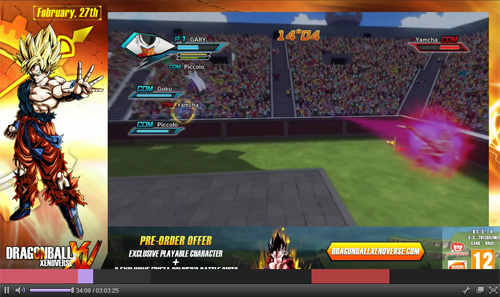 During the stream, the company divulged some details about the PC port:
On PC you'll get to play … at 30 frames per second, or 60 frames per second!

4K is also supported.

And 3D Vision from NVIDIA is not officially supported … but it works.
The company also confirmed that keyboard and mouse support is available, but heavily recommends using a traditional game controller, which is indeed supported in the PC version.
Dragon Ball XENOVERSE — developed by Dimps for Bandai Namco — will be released on the PlayStation 4, Xbox One, PlayStation 3, Xbox 360 and PC. The game was released today (05 February 2015) in Japan, while other territories have shifted slightly (North America to 24 February 2015, and Europe to 27 February 2015, the lattermost of which will also act as the global PC release date). A season pass for three downloadable content packs has been announced, with the first hitting players in March.