By way of Glénat and Kazé, respectively, the "Film Anime Comic" or simply "Anime Comic" (or even more generically, "animanga") and home video releases for the 2013 film, Dragon Ball Z: Battle of Gods, have finally hit France.
The animanga version — a comic taking screens from the film and arranging them manga-style with dialog bubbles — hit shelves 05 February 2015 for 9,60€. At 368 pages, it comes in just above the original Japanese release (360 pages). The book is available for order from Genki Store and Amazon France.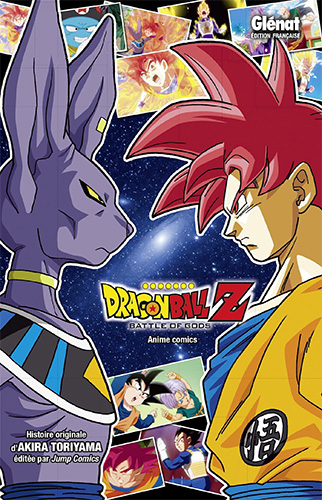 The home video release for the film dropped 11 February 2015 on both DVD (24,95€) and Blu-ray (29,95€):


In addition to containing the extended "Special Edition" of the film, bonus material includes a 19-minute behind-the-scenes featurette with the French voice cast. The film is available for order from Genki Store (DVD / Blu-ray) and Amazon France (DVD / Blu-ray).
Thanks to sangofe for the heads-up!