Via Japanese blog TAG Hobby, we have caught our first glimpse of the "World Collectable Figure" (WCF) crane-game prize figures tying in to the upcoming 2015 movie, Dragon Ball Z: Revival of "F":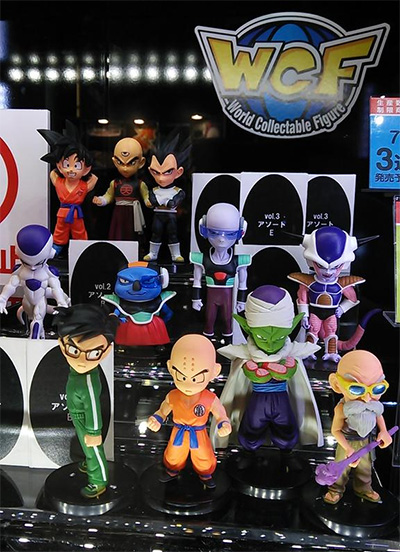 The figures were previewed by Banpresto over the weekend at the 2015 Japan Amusement Expo (JAEPO) industry event, held at Makuhari Messe in Chiba. Three waves of figures were shown, including newcomers Sorbet and Tagoma, Gohan in his tracksuit, Freeza in his first and fourth forms, and Goku and Vegeta in their new outfits. However, a total of seven figures were absent, represented only by placeholder cards and denoted with letters rather than character names.
This situation echoes the unveiling of of WCF figurines for the 2013 movie Dragon Ball Z: Battle of Gods. There, however, the early reveal of Pilaf provided the first appearance of a character that had not yet been formally revealed for the film. This time out, Banpresto have studiously avoided giving away any characters or forms not yet revealed. We may probably reasonably expect at least Beerus and Whis, Bulma, and Kuririn in his police uniform, but who or what the rest may represent (and indeed, whether there might be a fourth wave of figures, as with Battle of Gods) remains unknown at this time. The current WCF batch is from Jaco the Galactic Patrolman, which will be followed in March by a second wave from the Boo arc of Dragon Ball Kai.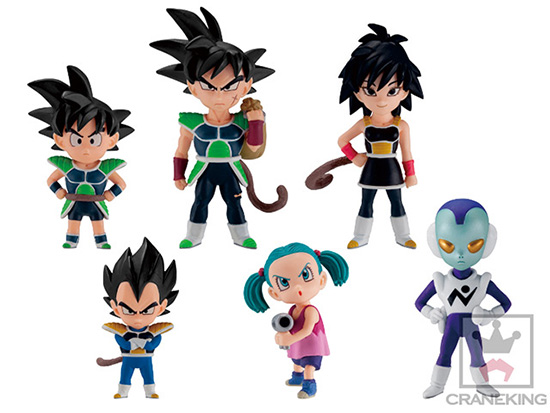 The story for Revival of "F", opening nationwide in Japan 18 April 2015 in 2D and IMAX 3D, is being crafted by original manga author Akira Toriyama, who stated he is writing it, "…as though it were a continuation of the manga when it was in serialization," and that while it will, "…of course be a continuation of the previous Battle of Gods," he has also, "…deliberately increased the amount of action scenes by a good deal." Tadayoshi Yamamuro, who worked for many years as character designer and animation supervisor on the Dragon Ball franchise, will serve as the film's director and animation supervisor. Norihito Sumitomo will return from Battle of Gods and the Majin Boo arc of Dragon Ball Kai for musical composition duties. Momoiro Clover Z will contribute a song alongside Maximum the Hormone, whose "F" will be used as a "battle song" during the film. Revival of "F" is set to bring back Freeza and will also include two new characters (Sorbet and Tagoma), feature Beerus and Whis again from Battle of Gods, and much more.