As reported on Anime News Network, the upcoming April 2015 issue of V-Jump (officially hitting shelves 21 February 2015) will announce Dragon Ball Z: Extreme Butōden (written as 超究極武闘伝, literally "super ultimate fighting legend"), a new fighting game coming to the Nintendo 3DS in Japan this summer.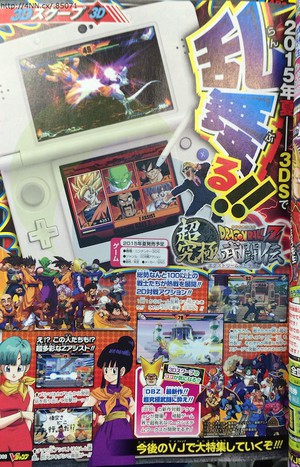 The game is being advertised as having a total of over 100 characters (with an unknown number of such actually being playable), and being "anything-goes", from one-on-one battles up through team brawls. Characters will also appear through the "Z-Assist" feature, which will feature (for example) Bulma throwing capsules, and Chi-Chi's rage erupting in a wall of text.
Also teased are super special-techniques called "Ultimate Arts", which can be activated in stages that are the characters' specialty.
Arc System Works will develop the game for Bandai Namco. The developer previously worked on the Bukū… / Supersonic Warriors games on the Nintendo GameBoy Advance and DS.
While the Nintendo 3DS is the company's first fully-region-locked portable system, an exploit allows for non-"New Nintendo 3DS" models (the original model and XL iterations) to load alternate-region games. The exploit is confirmed to work up through the system's current firmware. Those interesting in importing based on this exploit may wish to stay tuned to see how things play out down the line with this game and updated firmware releases. Note that the exploit does not allow for piracy; a legitimate game must be purchased.
Dragon Ball Kai: Ultimate Butoden, the most recent game to receive the "Butōden" branding (and first since the 32-bit generation), was released in February 2011. The game was never localized outside of Japan.