Norihito Sumitomo came on as a new composer for the Dragon Ball franchise with the 2013 theatrical film, Dragon Ball Z: Battle of Gods. In addition to being the second new composer for Dragon Ball Kai (scoring the Majin Boo arc, which is currently airing in Japan and certain international markets), Sumitomo will return to his duties for the upcoming new film, Dragon Ball Z: Revival of "F".
A staff member named "Hikari" recently wrote a blog post discussing Sumitomo's and the team's work composing for the film:
He began composing the songs after reading the script in December of last year, at a rate of five pieces a day.

With a film, the music requests come in chronological order, so he starts writing from M1.

The turbulent M2 has about 5 variations.

Sumitomo says it's precisely these kinds of pieces which must be written in order from the start.

If you can write the cool pieces right at the start, then the rest is just a matter of adding on.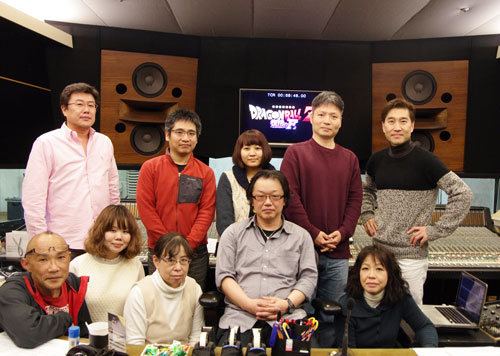 Pictured above are many of the musical composition team members surrounding the film's director, Tadayoshi Yamamuro. Read a full translation of the staff blog post (accompanied by many more photos!) in our "Translations" section.