With 55 days remaining until the film's debut, the official blog to promote Dragon Ball Z: Revival of "F" has returned to Bulma's control. This time around, she invites Gohan to toss in a few thoughts:
ブルマ:
こんにちは!ブルマよ!
公開まであと55日!
今日は孫君の息子の悟飯君に来てもらったわ。

悟飯:
みなさーん、こんにちは!そんご…

ブルマ:
ちょ、ちょっと悟飯君、なによその恰好!?

悟飯:
いやぁ、フリーザが復活したって聞いてあわてて道着を探していたんですけど見当たらなくって……ジャージしかなかったんですよ。

ブルマ:
もう~しっかりしてよね!
そういう抜けてるところはお父さんそっくりなんだから!

悟飯:
すみません・・・でもブルマさん、大変なことになりましたね。

ブルマ:
そうよ!地球の危機なんだから、悟飯君も頑張って闘いなさいよ!

悟飯:
そうですね・・まだ超サイヤ人にはなれると思うんですが……
今回はみんなの力を総動員しないと1000人のフリーザ軍には勝てませんからね!
あと55日、しっかり修業しないといけませんね!

---

Bulma:
Hi there! Bulma here!
There are now 55 days until opening!
Today, Son-kun's son, Gohan-kun, is here.

Gohan:
Hi, everyone! I'm Son Go—

Bulma:
Hold on a minute, Gohan-kun. What's with that getup?

Gohan:
Well, when I heard that Freeza was back, I looked for my dōgi in a panic, but I couldn't find it… all I had was this tracksuit.

Bulma:
Geez~ keep it together, will you?
That relaxed attitude of yours is just like your father's!

Gohan:
Sorry… but Bulma, we're in serious trouble!

Bulma:
That's right! It's a crisis for the Earth, so do your best and fight, Gohan-kun!

Gohan:
Let's see… I think I can still become a Super Saiyan…
This time, everyone will have to to turn out in full-force if we want to win against Freeza's 1000-strong army!
There are 55 days left, so I've got to do some serious training!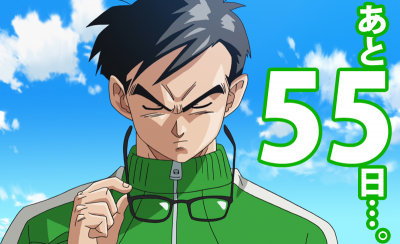 Fans continue to question Gohan's ability to and actual showcase of transforming into a Super Saiyan based on the events within the manga leading up to this timeframe. In the 2013 film Battle of Gods, early promotional materials showcased him transforming into a Super Saiyan mid-battle, whereas the final film did away with these effects (though Gohan did transform during the Super Saiyan God ritual). It is unknown whether fan comments toward production staff swayed these decisions, and it remains to be seen what happens in Revival of "F" with regard to Gohan and these transformations.
The story for Revival of "F", opening nationwide in Japan 18 April 2015 in 2D and IMAX 3D, is being crafted by original manga author Akira Toriyama, who stated he is writing it, "…as though it were a continuation of the manga when it was in serialization," and that while it will, "…of course be a continuation of the previous Battle of Gods," he has also, "…deliberately increased the amount of action scenes by a good deal." Tadayoshi Yamamuro, who worked for many years as character designer and animation supervisor on the Dragon Ball franchise, will serve as the film's director and animation supervisor. Norihito Sumitomo will return from Battle of Gods and the Majin Boo arc of Dragon Ball Kai for musical composition duties. Momoiro Clover Z will contribute a song alongside Maximum the Hormone, whose "F" will be used as a "battle song" during the film. Revival of "F" is set to bring back Freeza and will also include two new characters (Sorbet and Tagoma), feature Beerus and Whis again from Battle of Gods, and much more.
We will continue to keep tabs on this blog and translate whatever news it reveals, so stay tuned…!