With 54 days remaining until the film's debut, the official blog to promote Dragon Ball Z: Revival of "F" has been updated with a comment from none other than Masako Nozawa:
こんにちは!ブルマよ。
映画公開まであと54日!
今日は「ドラゴンボール」といえばこの方!孫悟空と孫悟飯役の野沢雅子さんからコメントを頂戴したわよ!
枠内の記事本文前作『神と神』の終わり方からして絶対にいつか次回作をやるだろうと思っていましたが、
こんなに早くできるとは思わなかったです。
映画をやると聞いた時は嬉しくてワクワクしました。
しかも、脚本を鳥山先生がゼロから書いたということで、台本が手元にくるのがとっても楽しみだったんですよ。
悟空として、こういう展開になるだろうとなと思って台本を読んでいると「え! こうきたの!?」という裏切られる流れで、「さすが先生!」って思いました。
この作品は最高ですよ。
本を読んでいるだけでわくわくどきどきして「へー、そうなんだ、そうか、こうきたのか」って思ったので、観る人は、絵と一緒に声も流れてくるわけですから楽しさが何倍もですよね。

フリーザ役の中尾隆聖とは小さいときからレギュラーをやってたものですから、心が通ってるから一緒に演じやすいです。
第一声からもう息が合っていて、相手がどう出るのか、絶対にこうくるだろうなというのも分かるし。
きっと隆聖くんもそうだと思いますよ。また一緒にやれて嬉しいし、最高です。

見どころはこの作品に関してはいっぱいあり過ぎてワンポイントで言えなくなっちゃいました。
でも全体でめちゃめちゃ面白いってことは言えます。
それから、やっぱり戦いはすごいです!
今までとは一味もふた味も違う戦いになると思います。

みなさん、フリーザの存在も気になるでしょ。
ここでフリーザこんなふうになりますよって言うと、色あせちゃうから、本当に楽しみにしてくださ

いよ!わくわくして劇場に足を運んでください。
それから、いつも思っているのですが、世界中の人に一人残らず見て欲しいです。
また前の"オラ"とは違うぜってところを是非見て欲しいです。
「オラこれだけ今回は成長したぜ。絶対見てくれよな」

---

Hey! Bulma here!
Just 54 days left until the movie premiers!
Today we've got a comment in from someone synonymous with "Dragon Ball": Masako Nozawa, voice of Son Goku and Son Gohan!

Nozawa: Based on the way "Battle of Gods" ended, I figured they were definitely going to make a sequel sooner or later, but I never thought it would be so soon.  I was happy and excited when I heard they were doing another movie. And since the screenplay this time was written by Toriyama-sensei from the ground up, I was really looking forward to getting my hands on the script. I had some ideas about how things might unfold with Goku, so as I read the script I was constantly going "wow, didn't see that coming!"; it was a constant flow of my expectations getting overturned. "That's sensei for you" I thought. This movie is great. I got excited just reading the script, so all the people watching it with the voices and pictures all together ought to enjoy it many times as much.

Ryusei Nakao (the voice of Freeza) has been performing major roles since he was little, so we understand each other, and this makes it easy for us to perform together. Since we click right from the first dialogue, we each know what the other is going to do next. I'm sure Ryusei-kun feels the same way. It's really great to be working with him again.

This film has so many highlights that I can't mention them all here, but I can tell you that the entire thing is super entertaining. And the battles are incredible, just like always! I think they'll turn out with a bit of a different feel to them than the ones in the past.

I'm sure everyone's curious about Freeza's presence in the film. It'd spoil things if I said here how things pan out for him in the movie, so you'll just have to look forward to it.

OK then! Get excited, and get yourself to the theater!
As always, I hope every single person in the entire world sees this.

Goku: I grew so much this time around. Definitely check it out!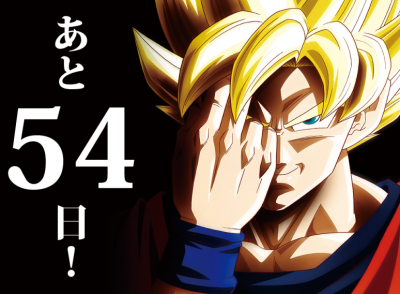 The story for Revival of "F", opening nationwide in Japan 18 April 2015 in 2D and IMAX 3D, is being crafted by original manga author Akira Toriyama, who stated he is writing it, "…as though it were a continuation of the manga when it was in serialization," and that while it will, "…of course be a continuation of the previous Battle of Gods," he has also, "…deliberately increased the amount of action scenes by a good deal." Tadayoshi Yamamuro, who worked for many years as character designer and animation supervisor on the Dragon Ball franchise, will serve as the film's director and animation supervisor. Norihito Sumitomo will return from Battle of Gods and the Majin Boo arc of Dragon Ball Kai for musical composition duties. Momoiro Clover Z will contribute a song alongside Maximum the Hormone, whose "F" will be used as a "battle song" during the film. Revival of "F" is set to bring back Freeza and will also include two new characters (Sorbet and Tagoma), feature Beerus and Whis again from Battle of Gods, and much more.
We will continue to keep tabs on this blog and translate whatever news it reveals, so stay tuned…!