Earlier today the official website for the upcoming film, Dragon Ball Z: Revival of "F", was updated with two new sections: Character and Cast/Staff. While the staff and cast page did not provide any new details beyond what has already been announced, the character page did provide fourteen new character profiles for the film's hero characters. However, thanks to a little sleuthing by members of our forum, a few additional not-yet-linked-to villain character profiles have been discovered.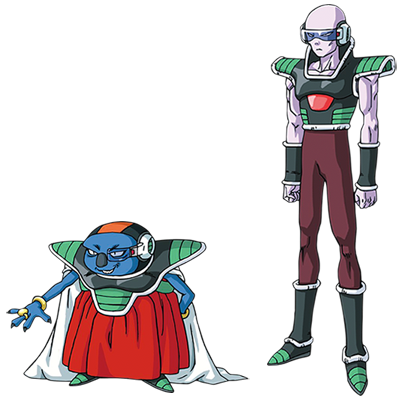 FREEZA (Ryūsei Nakao)
Once an evil emperor in space with no limit to his aggression, and the one behind the destruction of the Saiyan's planet. He is a shape-shifting alien who possesses four forms, powering up each time he transforms.

On Planet Namek, he has a life-and-death battle against Goku & co., but he loses against the Super Saiyan Goku.

After that, he turns his body into a cyborg and comes to Earth, but is killed by the Trunks from the future.

This time, the survivors of Freeza's forces succeed in bringing him back from Hell, but just what is the extent of his power, which has made a further evolution…?

SORBET (Shirō Saitō)
Rose to the top of Freeza's army following Freeza's death. Although his body is small, he is quite cunning. To resurrect Freeza's army, he plots to revive Freeza with Earth's Dragon Balls.

TAGOMA (Kazuya Nakai)
Sorbet's bodyguard. Along with Sorbet, he comes to Earth in search of the Dragon Balls.
In addition to some minor story elements, these character profiles do finally reveal Shirō Saitō (斎藤志郎) and Kazuya Nakai (中井和哉) as the voices for Sorbet and Tagoma, respectively. While Shirō Saitō has never been involved with the Dragon Ball franchise, he does have quite a resume of characters, including Nene from Blue Dragon, Mamezō from Kekkaishi, Colonel Mokkoi from Toriko, and most recently, Dagama in One Piece. Conversely, while Kazuya Nakai did voice two minor throwaway characters early on in Dragon Ball GT, he is without a doubt most widely known as the voice of the sword-wielding Roronoa Zoro in One Piece. Some of his other notable roles include Toshirō Hijikata from Gintama and Mugen from Samurai Champloo.
The story for Revival of "F", opening nationwide in Japan 18 April 2015 in 2D and IMAX 3D, is being crafted by original manga author Akira Toriyama, who stated he is writing it, "…as though it were a continuation of the manga when it was in serialization," and that while it will, "…of course be a continuation of the previous Battle of Gods," he has also, "…deliberately increased the amount of action scenes by a good deal." Tadayoshi Yamamuro, who worked for many years as character designer and animation supervisor on the Dragon Ball franchise, will serve as the film's director and animation supervisor. Norihito Sumitomo will return from Battle of Gods and the Majin Boo arc of Dragon Ball Kai for musical composition duties. Momoiro Clover Z will contribute a song alongside Maximum the Hormone, whose "F" will be used as a "battle song" during the film. Revival of "F" is set to bring back Freeza and will also include two new characters (Sorbet and Tagoma), feature Beerus and Whis again from Battle of Gods, and much more.