With 53 days remaining until the film's debut, the official blog to promote Dragon Ball Z: Revival of "F" has been updated with a new comment from none other than Freeza himself, Ryūsei Nakao! Even Bulma seems a bit shaken when she introduces him:
こんにちは!ブルマよ。
映画公開まであと53日!
きょ、今日は何と……フリーザ役の中尾隆聖さんからコメントを頂戴したわよ!

劇場版でフリーザとして復活できることは、すごく嬉しかったです。
前回は出られなかったので、まさかもう一度こうやって復活できるなんて「やっほー」と思いました(笑)。

ストーリーは先生自らが書いてくださったということで、楽しみにしていたのですが、「フリーザがこんな風に蘇ってくるんだ」というのがすごく楽しかったです。
こんなに長い期間フリーザというキャラクターが生き続けて、皆さんの支持を頂けているのは嬉しいかぎりです。
25年前の作品ですが、これだけ経っても、ありがたいことに毎年色んな形でフリーザをやらせていただいていたので、いまだに終わったという感じはしていなかったんです。
フリーザ=中尾隆聖みたいのように思っていただけるのは、すごくありがたいことだと思います。
なかなかそういう風に言ってもらえる作品やキャラクターに出会えることはないですし、私たちの一番の幸せなので。
悪役っていうと中尾隆聖がやってる!と、そういうものを位置づけてくれた作品なので、とっても大事な作品です。
ファンの方たちが育ててくださったキャラクターだと思いますね。

フリーザファンの皆さん!是非、最後の最後まで見ていってください!
最後まで見ていただければまた………。

---

Hey! Bulma here!
Just 53 days left until the movie's premiere!
T-Today we've got…why, it's a comment from the voice of Freeza, Ryūsei Nakao!

Nakao: I was incredibly happy when I heard that I was coming back as Freeza for this movie. I didn't get the chance to participate last time, so when against all odds it turned out I'd get to come back to life one more time, I went "yippy!" (laughs)

I was already looking forward to the story since I knew sensei was writing it himself, but it was still really fun to see just how Freeza gets resurrected. That the character of Freeza has survived for so long thanks to everyone's support makes me happy in the extreme.

Even though it's a series from 25 years ago, after all this time I'm still fortunate enough to play Freeza in some form or another every year, which made me feel that it wasn't quite over yet. I'm incredibly grateful that people think that "Freeza=Ryūsei Nakao". There aren't too many series or characters out there that get people saying things like that about us, so they're our greatest joy.

It's a very important series for me, since thanks to it I've got my current position where people go "if it's a bad guy, have Ryūsei Nakao voice him!"

I think he's a character who's been nurtured by the fans.

All you Freeza fans, please watch until the very end!

If you watch until the end, then maybe once more…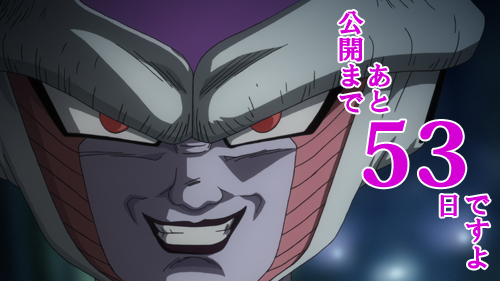 The story for Revival of "F", opening nationwide in Japan 18 April 2015 in 2D and IMAX 3D, is being crafted by original manga author Akira Toriyama, who stated he is writing it, "…as though it were a continuation of the manga when it was in serialization," and that while it will, "…of course be a continuation of the previous Battle of Gods," he has also, "…deliberately increased the amount of action scenes by a good deal." Tadayoshi Yamamuro, who worked for many years as character designer and animation supervisor on the Dragon Ball franchise, will serve as the film's director and animation supervisor. Norihito Sumitomo will return from Battle of Gods and the Majin Boo arc of Dragon Ball Kai for musical composition duties. Momoiro Clover Z will contribute a song alongside Maximum the Hormone, whose "F" will be used as a "battle song" during the film. Revival of "F" is set to bring back Freeza and will also include two new characters (Sorbet and Tagoma), feature Beerus and Whis again from Battle of Gods, and much more.
We will continue to keep tabs on this blog and translate whatever news it reveals, so stay tuned…!