With 50 days remaining until the film's debut, the official blog to promote Dragon Ball Z: Revival of "F" has updated with word from another voice actor, Toshio "Piccolo" Furukawa:
こんにちは!ブルマよ。
映画公開まであと50日!
今日はピッコロ役の古川登志夫さんからコメントを頂戴したわよ!

今回の劇場版最新作に至るまで、シリーズ、劇場版、ゲームなど、多様なコンテンツが今なお創られ続けられているので、ドラゴンボールは「終わらない作品」という印象がありますね。
そんな息の長い作品は限られますし、そうしたアニメ史に燦然と輝く金字塔的な作品に関われるというのは、僕達声優にとってもすごく嬉しいことです。

今回はフリーザという魅力的な悪役を中心に、様々なキャラクター達それぞれに見せ場があり、原作者・鳥山先生のシナリオならではの作品だと思います。
ドラゴンボールにはたくさん魅力的な悪役が登場しますが、フリーザはとりわけ印象深いキャラクターですね。
究極の悪役です。
そのフリーザが復活するというだけで盛り上がること間違い無しですよね。
今回はピッコロも出番が多く、復活の「"F"urukawa(古川)」という感じで、激しい戦闘シーン、頑張らせていただきました(笑)。

今回の見せ場は「激戦」とチラシに書いてある通りズバリ「バトルシーン!」です。
ドラゴンボールはエンドレスの作品、ドラゴンボールファンの皆さんには、これからもずっとずっと愛し続けて頂きたいと思っています。
ともあれこの劇場版最新作を劇場でお楽しみ下さい!

---

Hey! Bulma here!
Just 50 days left until the movie debuts!
Today we've got a comment from the voice of Piccolo, Toshio Furukawa!

Dragon Ball has this image as a never-ending series: they continue to go on making all kinds of TV shows, movies, games, and other content, right up to this latest film. A series this enduring is pretty rare, and we voice artists are incredibly happy to be involved in such a crowning achievement in anime history.

The scenario for this movie is one I think only original author Toriyama-sensei could have come up with: centered on the charismatic villain Freeza, with lots of different characters getting a chance to show their stuff.

Dragon Ball features many charismatic villains, but out of all of them Freeza was most memorable. He's the ultimate bad guy. So with him coming back to life, things are definitely going to heat up.

This time Piccolo has a big role too, and I gave the intense fight scenes all I had. It's the Revival of "F"urukawa (laughs).

The highlights this time are definitely the battle scenes, with "battle" written in wild and crazy letters.

Dragon Ball is an endless series, and I hope all Dragon Ball fans will go on loving it for a long, long time to come. In any case, please enjoy seeing this latest film at the theaters!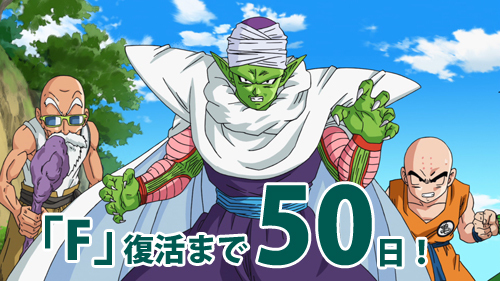 The story for Revival of "F", opening nationwide in Japan 18 April 2015 in 2D and IMAX 3D, is being crafted by original manga author Akira Toriyama, who stated he is writing it, "…as though it were a continuation of the manga when it was in serialization," and that while it will, "…of course be a continuation of the previous Battle of Gods," he has also, "…deliberately increased the amount of action scenes by a good deal." Tadayoshi Yamamuro, who worked for many years as character designer and animation supervisor on the Dragon Ball franchise, will serve as the film's director and animation supervisor. Norihito Sumitomo will return from Battle of Gods and the Majin Boo arc of Dragon Ball Kai for musical composition duties. Momoiro Clover Z will contribute a song alongside Maximum the Hormone, whose "F" will be used as a "battle song" during the film. Revival of "F" is set to bring back Freeza and will also include two new characters (Sorbet and Tagoma), feature Beerus and Whis again from Battle of Gods, and much more.
We will continue to keep tabs on this blog and translate whatever news it reveals, so stay tuned…!