With 46 days remaining until the film's debut, the official blog to promote Dragon Ball Z: Revival of "F" has updated with a message from the staff about the film's new trailer.
こんにちは。スタッフです。
映画の公開まであと46となりました本日、
映画『ドラゴンボールZ 復活の「F」』の予告編を公開させていただきました!

今回の予告編はオールスターキャラクターが勢揃い!の、
スーパーバトルアクションと語るにふさわしい大迫力の映像です!

マキシマム ザ ホルモンさんのバトルソング「F」も、
本日初解禁となったももいろクローバーZさんの主題歌「『Z』の誓い」も
とてもマッチしているので、是非映画の公開をお待ちください!

予告編はこちらでご覧いただけます
映画予告編

更なる進化を遂げたフリーザから目が離せなくなること間違い無しです!

---

Hello, it's the staff.
With just 46 days left until the movie debuts, we've released the trailer for the Dragon Ball Z: Revival of "F" movie!

This time the trailer is a line-up of all-star characters! The powerful video fittingly depicts the super battle action!

Also there's Maximum the Hormone's battle song "F", along with the debut of Momoiro Clover Z's theme song "Vow of 'Z'", so by all means please look forward to the movie's premiere!

The trailer can be found here:
Movie Trailer

It's certain you won't be able to take your eyes off of Freeza, who has undergone further evolution!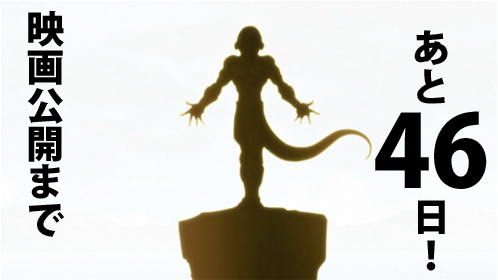 The story for Revival of "F", opening nationwide in Japan 18 April 2015 in 2D and IMAX 3D, is being crafted by original manga author Akira Toriyama, who stated he is writing it, "…as though it were a continuation of the manga when it was in serialization," and that while it will, "…of course be a continuation of the previous Battle of Gods," he has also, "…deliberately increased the amount of action scenes by a good deal." Tadayoshi Yamamuro, who worked for many years as character designer and animation supervisor on the Dragon Ball franchise, will serve as the film's director and animation supervisor. Norihito Sumitomo will return from Battle of Gods and the Majin Boo arc of Dragon Ball Kai for musical composition duties. Momoiro Clover Z will contribute a song alongside Maximum the Hormone, whose "F" will be used as a "battle song" during the film. Revival of "F" is set to bring back Freeza and will also include two new characters (Sorbet and Tagoma), feature Beerus and Whis again from Battle of Gods, and much more.
We will continue to keep tabs on this blog and translate whatever news it reveals, so stay tuned…!