With 43 days remaining until the film's debut, the official blog to promote Dragon Ball Z: Revival of "F" has updated with a cheerful and wholesome chat with everyone's favorite Turtle Hermit:
こんにちは!ブルマよ!
公開まであと43日!
今日は亀仙人さんが来たわよ!

ハロー!ブログをみているギャルのみんな、ちーっとだけおっぱいをつつかせてくれやしないか?

ちょっといきなり何言ってんのよ!

おぉ、ブルマよ、しばらく会わんうちにまた色気がましたのぅ。

(ゴソゴソ)尻を触るな!

(ゴーン!)イテテテ・・・偉大な仙人様に何をするんじゃ!

うるさいエロ仙人!いいから、今度の映画のことしゃべりなさいよ!

まったく相変わらずおっかないのぅ・・ゴホン!
えー今回、あのフリーザが復活して地球に向かっているらしいのじゃ。
今の悟空やベジータだったら大した敵ではないはずなんじゃが、どうやらとてつもなくパワーアップしているらしいんじゃ!
それも1000人もの兵士を連れてくるようじゃから、悟空たちだけでは大変じゃろうな・・・もしかしたら今回は久々にわしの出番かのう!

えっ!?亀仙人さん、もしかして闘うつもり!?

年寄りを馬鹿にするでないぞ。
わしだってまだまだ現役じゃ!
見ておれこの動き!ほれ!ほれ!(グキッ)

・・・・!!!

・・・・無敵の武天老師と呼ばれた頃が懐かしいわい・・・とにかく43日後じゃな。それまで針治療にでも行ってくるか。イテテテ・・・

---

Bulma: Hey, Bulma here!
Just 43 days left until the premiere!
Today Kame-Sen'nin has stopped by!

Kame-Sen'nin: Hello! Hey all you gals reading this blog, how about letting me fondle your boobs? You know, just for a little bit?

Bulma: Are you kidding me!?

Kame-Sen'nin: Oh, Bulma! You've gotten even sexier since I last saw you.

(*rustle, rustle*)

Bulma: Hands off my butt!

(*Bo—ong!*)

Kame-Sen'nin:  Owwy-ow-ow…Is that any way to treat a grand sage?!

Bulma: Put a sock in it, you dirty old hermit! Look, just tell them about the upcoming movie!

Kame-Sen'nin: Geez, you never change…scary as an…*ahem*!
Well anyway, seems this time around that Freeza guy has come back to life and is heading for Earth. Of course, you'd think he couldn't put up much of a fight against Goku or Vegeta, not the way they are now, but apparently he's achieved some massive power-up. Even worse, he's bringing 1,000 soldiers with him, so even Goku and the others might have a tough time handling it all on their own…Maybe it's finally time for me to throw my hat in the ring again!

Bulma: Wha!? Don't tell me you plan on fighting!?

Kame-Sen'nin: Hey, you better respect your elders. I'm still a long way from retirement! Just check out these moves! Hah! Yah! (*CRACK*)

Bulma: …!!!

Kame-Sen'nin: …Oh, how I miss the days when people called me the "invincible Muten Rōshi"…Anyway, still 43 days left. Maybe I should go get some acupuncture in the meantime. Owwy-ow-ow…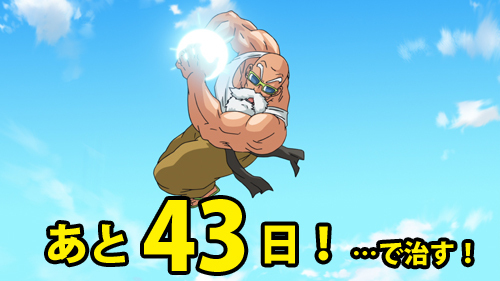 The story for Revival of "F", opening nationwide in Japan 18 April 2015 in 2D and IMAX 3D, is being crafted by original manga author Akira Toriyama, who stated he is writing it, "…as though it were a continuation of the manga when it was in serialization," and that while it will, "…of course be a continuation of the previous Battle of Gods," he has also, "…deliberately increased the amount of action scenes by a good deal." Tadayoshi Yamamuro, who worked for many years as character designer and animation supervisor on the Dragon Ball franchise, will serve as the film's director and animation supervisor. Norihito Sumitomo will return from Battle of Gods and the Majin Boo arc of Dragon Ball Kai for musical composition duties. Momoiro Clover Z will contribute a song alongside Maximum the Hormone, whose "F" will be used as a "battle song" during the film. Revival of "F" is set to bring back Freeza and will also include two new characters (Sorbet and Tagoma), feature Beerus and Whis again from Battle of Gods, and much more.
We will continue to keep tabs on this blog and translate whatever news it reveals, so stay tuned…!