With 36 days remaining until the film's debut, the official blog to promote Dragon Ball Z: Revival of "F" has updated with comments from movie staff discussing a new promotion…
こんにちは。スタッフです。
公開まであと36日です!

みなさまカレーは好きですか?

昨日発表された通り、この度カレーハウスCoCo壱番屋さんとコラボキャンペーンを実施することが決定いたしました!

2015年4月1日(水)~5月31日(日)のキャンペーン期間中に、
合計金額1,000円(税込)以上のレシートを貼って応募すると、ココイチオリジナルグッズが抽選で当たるレシート応募式のキャンペーンです。
「瞬間移動をしている孫悟空(全体像)」や「カレーをモリモリ食べる孫悟空」など、
今回のキャンペーンのためだけに描き下ろされたオリジナルデザインのグッズをが当たります!

また、オリジナルピンバッジ(全6種)、コンプリートBOX応募券、ドリンク無料券が当たる店頭くじも実施
!※各店くじがなくなり次第終了

詳しくはキャンペーンサイトをご確認ください。
http://www.ichibanya.co.jp/campaign/dragonball/

みんなでカレーをモリモリ食べて元気パワー全開で劇場公開まであと36日カウントダウンしちゃいましょう!

---

Hello, it's the staff.
Just 36 days left until the premiere!

Hey everyone, do you like curry?

As announced yesterday, we're running a tie-in promotional campaign with Curry House CoCo Ichibanya!

From Wednesday April 1st to Monday May 31st 2015, you can send in any receipt of more than 1,000 yen (tax included) to be entered into a CoCo Ichibanya original merchandise lottery. You can win merchandise featuring original designs especially drawn for this campaign, such as "Son Goku Teleporting (Panorama)" or "Son Goku Chowing Down on Curry"!

There's also a storefront lotto campaign where you can win one of 6 original pin badges, a complete boxset of these pin badges, or a free drink.
!※ Offer expires when stores run out of supplies.

Check out the campaign site for details.
http://www.ichibanya.co.jp/campaign/dragonball/

Everyone, pig out on this curry so that you'll have enough energy to count down the remaining 36 days until the movie premiere!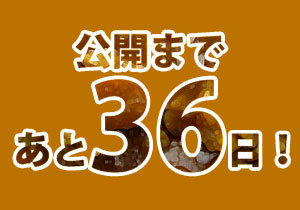 The story for Revival of "F", opening nationwide in Japan 18 April 2015 in 2D and IMAX 3D, is being crafted by original manga author Akira Toriyama, who stated he is writing it, "…as though it were a continuation of the manga when it was in serialization," and that while it will, "…of course be a continuation of the previous Battle of Gods," he has also, "…deliberately increased the amount of action scenes by a good deal." Tadayoshi Yamamuro, who worked for many years as character designer and animation supervisor on the Dragon Ball franchise, will serve as the film's director and animation supervisor. Norihito Sumitomo will return from Battle of Gods and the Majin Boo arc of Dragon Ball Kai for musical composition duties. Momoiro Clover Z will contribute a song alongside Maximum the Hormone, whose "F" will be used as a "battle song" during the film. Revival of "F" is set to bring back Freeza and will also include two new characters (Sorbet and Tagoma), feature Beerus and Whis again from Battle of Gods, and much more.
We will continue to keep tabs on this blog and translate whatever news it reveals, so stay tuned…!