Dragon Ball XENOVERSE players may have noticed a special gift sent to them in-game this past week: the four-star Dragon Ball!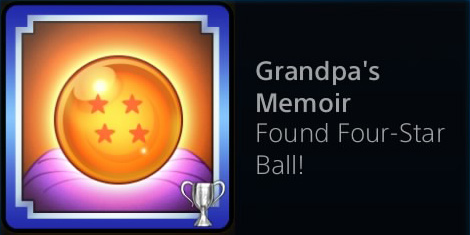 The official Facebook page for Dragon Ball video games announced yesterday that each week through 17 April 2015 players can visit the Time Space Delivery kiosk to receive at least one new Dragon Ball:
March 20th – Two-star Dragon Ball, Five-star Dragon Ball
March 27th – Three-star Dragon Ball
April 3rd – Six-star Dragon Ball
April 10th – Seven-star Dragon Ball
April 17th – One-star Dragon Ball
Collecting the seven Dragon Balls allow players to wish for more zeni, rare items, new outfits, level up, obtain more playable characters, reset skill points, and more.
If you happen to have already collected the respective Dragon Ball during one of your missions, you will be unable to accept the gift (so be sure to collect the others and summon Shenlong before claiming your freebie)! Players will need to have have completed the Time Patrol Quest "Return of the Saiyans Saga" and have logged into the single and multiplayer lobbies before receiving these gifts.
Dragon Ball XENOVERSE — developed by Dimps for Bandai Namco — is the latest video game for the franchise on the PlayStation 4, Xbox One, PlayStation 3, Xbox 360 and PC.