This week's May 2015 issue of V-Jump in Japan provides a slew of updates on upcoming downloadable content for Dragon Ball XENOVERSE.

The second pack of downloadable content, available later this month, will be a follow-up to the first Dragon Ball GT pack released this week. Four new characters will be made available for play: San Xing Long (the Three-Star Dragon) and Si Xing Long (the Four-Star Dragon) from Dragon Ball GT, along with Towa and Mira, who were previously unplayable boss characters in the game. Among the five new pieces of clothing will be those of Mira and Towa. Three story quests and three Parallel Quest missions will be added, along with six new Z-Soul items, 22 new attacks, and Pan as a master that your playable character can train under.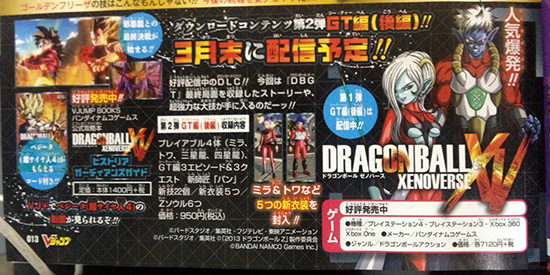 The third DLC pack was previously announced by Bandai Namco EU as containing "Turtle Hermit set, Jaco the Space Patroller and highly exclusive content!" The Kame-Sen'nin outfit set and Jaco were made available in Japan for pre-order/first-pressing copies of the game, but have not yet been made available outside of that limited release. Bonus items promised for early Japanese Revival of "F" attendees are set to include related, unlockable content in various video games, including Dragon Ball XENOVERSE.
Downloadable content packs are available at a base price of $9.99/¥950 per pack, with a season pass available netting players interested in acquiring all three packs a $5 savings at $24.99.
Dragon Ball XENOVERSE — developed by Dimps for Bandai Namco — is the latest video game for the franchise on the PlayStation 4, Xbox One, PlayStation 3, Xbox 360 and PC.