In our never-ending quest to provide full coverage of the official blog to promote Dragon Ball Z: Revival of "F", let's journey back in time to the bygone era that was March 16th, when the blog updated with an abbreviated version of the Momoiro Clover Z interview from the 2015 #15 issue of Weekly Shōnen Jump in Japan:
こんにちは。ブルマよ。公開まであと33日!
今日は「ももいろクローバーZ」さんからいただいたコメントの第2弾よ。
今回はアフレコについて語ってもらったわ。

有安)アフレコはあーりんと比べたら経験がないですけど、そのなかでもかわいらしい天使役をやらせていただいたんです!
けど、普段あんまりファンタジーなものを見たりする性格ではないので……すごく大変でした(笑)。

佐々木)せっかく5人のキャラクターを書いていただいたので、ももクロらしくすごく楽しい雰囲気が出ればいいなと思って、みんなで頑張りました。
アフレコの先輩として、堂々とした感じでやりました(笑)。

百田)笑い声とか、そういうのが意外と難しくて、普段すごくわらっているはずなのに、天使みたいに笑ってって言われるとちょっと難しかったんです(笑)。
お花畑にいる気分でやってみました。私が最初に撮ったのが、高城と二人で撮ったんですけど、それが一発OKで!

百田・高城)ね!!

百田)それがすごく嬉しかったです。

玉井)アフレコの経験がなかったので、想像と監督やスタッフの皆さんのアドバイスだけで作るのはすごく難しいなと思ったのと、どうしても声だけで演じると身体も動いちゃうんですけど、実際に映像にのるのは声だけだから、声だけで表すのはすごく難しいなと思いました。

高城)今回天使の役なんですけど、全然普段とかけ離れたキャラだし、その中でも私の役って一番テンションの高い役なんですよ。全然普段テンション高くないので。

佐々木・高城)そうだったっけ?

百田)これはうちらに突っ込んでほしいって流れ? もう1回ちょっと前からやろう!

高城)天使は普段からかけ離れてるし、なかでも私すごいテンションの高い役なんですけど、普段全然高くないんで。

一同)そんなことないよ~(笑)。

高城)ありがとうございました。

一同笑い

---

Hello, Bulma here! Just 33 days until the premiere!
Today we've got the second round of comments from "Momoiro Clover Z".
This time they discuss voice acting.

Ariyasu) Even though I'm not too experienced with voice acting compared to A-rin [Sasaki], I still got to play a cute angel! But I'm not really the type to watch much fantasy, so…it was super tough (laughs).

Sasaki) They went to the trouble of creating these 5 characters, so we all strove to create the sort of fun atmosphere that Momoiro Clover Z is known for. As the group's veteran when it comes to voice-acting, I pulled it off in grand style (laughs).

Momota) Laughing and stuff like that was way harder than I expected; normally I can hardly stop laughing, but when you tell me to laugh like an angel, it's a bit tricky (laughs). I pictured myself in the middle of a field of flowers. The first recording I did was just me and Takagi, but we nailed it on the first take!

Momota and Takagi) Yeah!!

Momota) It was great.

Tamai) I had no voice acting experience, so I felt it was really hard doing it all just with my imagination and advice from the director or staff. I'd always end up moving my body, even though my voice is the only thing that actually goes with the images. I thought it was incredibly difficult to convey things solely through my voice.

Takagi) This time around we voiced angels, characters totally outside the norm. And my angel was supposed to be the most hyper one of all, even though normally I'm never hyper.

Sasaki and Takagi) …….Really?

Momota) You only said that to get a response out of us, didn't you? Say it again, I dare you!

Takagi) An angel's something totally outside the norm, and the angel I played was particularly hyper, even though normally I'm not even a tiny bit hyper.

Everyone) You big fibber! (laughs)

Takagi) Thanks so much.

Everyone laughs
Journeying on yet further, we return to March  15th, when the blog updated with a quick roundup of various promotional items available to those purchasing advance tickets for the film (so, basically people in Japan):
こんにちは。スタッフです。
公開まであと34日!
4/18公開の『ドラゴンボールZ 復活の「F」』では、現在前売券を絶賛発売中です!

■劇場窓口では…
「劇場版・鳥山明モデル超進化ストラップ」がもらえます!
鳥山先生が映画の為に描き下ろした新設定画を元に作られたイヤホンジャック付の限定ストラップ!
悟空バージョンとフリーザバージョン、チケット一枚につきどちらか1つをプレゼントです。
価格などの詳細はオフィシャルサイトをチェック!

■Loppi限定!
全国のローソン・ミニストップ店内のLoppiでも限定グッズ付前売券セットを予約受付中です!
グッズは「チャーム付ボールペン」と「フリーザ進化時計」の2種類♪

【チャーム付ボールペン】
その時の気分でチャームが付け替えられる!ボールペン本体は、フリーザをイメージした白に、かっこいいシルバープリントです。

【フリーザ進化時計】
フリーザ部分が半立体になっていて、時が進むごとにフリーザが進化!盤面には映画の主要キャラクターが勢ぞろい!!

価格やグッズ、予約の詳細などはこちらをチェック!

■Amazon限定!
Amazon.co.jpでも、限定でオリジナル描き下ろしビジュアルアートポスターセット付き特別前売券が登場です!
B5サイズのオリジナル描き下ろしビジュアルアートポスターが、2枚セットでついてきます。
価格などの詳細は商品ページをチェック!

是非この機会に様々な限定グッズを入手しちゃいましょう!

---

Hello, staff here.
Just 34 days left until the premiere!
Advance tickets are now on sale for Dragon Ball Z: Revival of "F", premiering April 18th!

■At theater ticket windows…
You can get "Movie-version Akira Toriyama Model Super Evolution Straps"! These limited edition mobile phone straps come with earphone jacks, and are based off new designs Toriyama-sensei drew for the movie! You get your choice of either Goku or Freeza with each ticket.

Check out the official site for price and other info!

■Loppi Limited Edition!
You can even reserve advance tickets with limited edition goods using Loppi, found inside Lawson stores nationwide!
There are two types of goods: "Charm Ballpoint Pen" and "Freeza Evolution Clock" ♪

[Charm Ballpoint Pen]
You can change the charm based on your mood! The pen itself is white with a cool silver print, just like Freeza.

[Freeza Evolution Clock]
Has semi-3D Freeza images, so as time advances, Freeza evolves! The clock face features a lineup of the film's major characters!!

Check here for price and other details on the goods and reservations!

■Amazon Limited Edition!
Amazon even has a special advance ticket that comes with a limited edition visual art poster set! This set features two Size B5 exclusive visual art posters.
Check the product page for price and other product details!

Definitely take this opportunity to get your hands on some of these limited edition goods!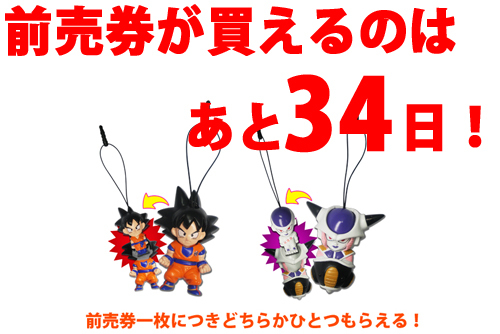 The story for Revival of "F", opening nationwide in Japan 18 April 2015 in 2D and IMAX 3D, is being crafted by original manga author Akira Toriyama, who stated he is writing it, "…as though it were a continuation of the manga when it was in serialization," and that while it will, "…of course be a continuation of the previous Battle of Gods," he has also, "…deliberately increased the amount of action scenes by a good deal." Tadayoshi Yamamuro, who worked for many years as character designer and animation supervisor on the Dragon Ball franchise, will serve as the film's director and animation supervisor. Norihito Sumitomo will return from Battle of Gods and the Majin Boo arc of Dragon Ball Kai for musical composition duties. Momoiro Clover Z will contribute a song alongside Maximum the Hormone, whose "F" will be used as a "battle song" during the film. Revival of "F" is set to bring back Freeza and will also include two new characters (Sorbet and Tagoma), feature Beerus and Whis again from Battle of Gods, and much more.
We will continue to keep tabs on this blog and translate whatever news it reveals, so stay tuned…!