With 27 days remaining until the film's debut, the official blog to promote Dragon Ball Z: Revival of "F" has updated with Bulma's crash course on Jaco the Galactic Patrolman (available now in fine bookstores everywhere):
こんにちは。ブルマよ。
公開まであと27日!

ところで、突然なんだけど、みんなは私に姉がいることを知ってるわよね?
え?姉さんのタイツを知らないって??
ちょっと、どこのモグリよ!

まあ、いいわ。
とにかく、私には姉さんがいるんだけど、実は姉さんは大昔に訳あって変な宇宙人に会ったことがあるのよね!
その流れで私も知り合いになった、銀河パトロール隊員のジャコっていう、変な名前のヤツがいて、そいつ自称「超エリート」っていってるのよね。
実際は本当に強いかわからないんだけど…。。

あいつ、今頃はどの辺の宇宙にいて何してるのかしらね。
のたれ死んでないといいんだけど!

でも、地球の危機とあっては、きっと孫くんたちと一緒に戦ってくれるはずだから、みんなも応援よろしくね。

あ、ジャコのこと、もっと知りたかったらこれを読んで予習しておくといいんじゃないかしら!
⇒銀河パトロール ジャコ 
http://www.s-manga.net/book/978-4-08-870892-8.html

---

Hey, Bulma here!
Just 27 days to go until the premiere!

By the way, not to go totally off-topic or anything, but you guys all know I have an older sister, right?

What?! You've never heard of my sister Tights!??
Have you been living under a rock or something?!

Well, whatever.

Anyway, I have this sister, and way back when she happened to meet a weird alien! Thanks to her, I ended up meeting this alien too. "Jaco the galactic patrolman" was his name, and he called himself "super elite". But somehow he didn't really seem all that strong…

I wonder what corner of the universe he's in these days, and what kind of hijinks he's getting up to. Hopefully he's not dead in a ditch somewhere!

But if ever the Earth is in danger, he'll definitely come fight alongside Son-kun and the others, so everyone better give him your support.

Oh, if you want to know more about Jaco, you can read up on him here!

⇒ Jaco the Galactic Patrolman
http://www.s-manga.net/book/978-4-08-870892-8.html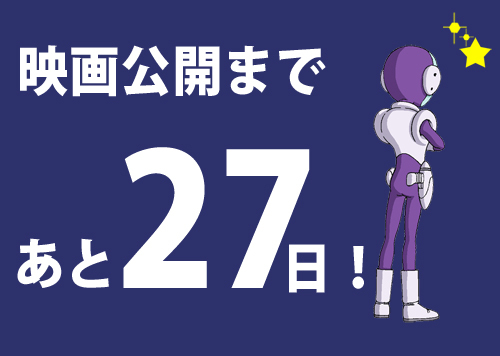 The story for Revival of "F", opening nationwide in Japan 18 April 2015 in 2D and IMAX 3D, is being crafted by original manga author Akira Toriyama, who stated he is writing it, "…as though it were a continuation of the manga when it was in serialization," and that while it will, "…of course be a continuation of the previous Battle of Gods," he has also, "…deliberately increased the amount of action scenes by a good deal." Tadayoshi Yamamuro, who worked for many years as character designer and animation supervisor on the Dragon Ball franchise, will serve as the film's director and animation supervisor. Norihito Sumitomo will return from Battle of Gods and the Majin Boo arc of Dragon Ball Kai for musical composition duties. Momoiro Clover Z will contribute a song alongside Maximum the Hormone, whose "F" will be used as a "battle song" during the film. Revival of "F" is set to bring back Freeza and will also include two new characters (Sorbet and Tagoma), feature Beerus and Whis again from Battle of Gods, and much more.
We will continue to keep tabs on this blog and translate whatever news it reveals, so stay tuned…!