With 28 days remaining until the film's debut, the official blog to promote Dragon Ball Z: Revival of "F" has updated with another staff post, this time covering the Dragon Ball "fan meeting" that was held at AnimeJapan 2015:
こんにちは、スタッフです。
公開まであと28日!

本日はAnimeJapan2015にて"天下一ファンミーティング"が行われました!
会場には1000人ものファンが駆けつけ、野沢雅子さんと悟空、中尾隆聖さんとフリーザ、堀川りょうさんとベジータ、そして佐藤正治さん、古川登志夫さんの登場に歓喜の声が上がりました。

ファンミーティングでは、映画の見どころや、脚本についてなどの話に加え、
本邦初公開の劇場版のセリフ披露などで会場が湧く中、
ドラゴンボールZ 復活の「F」の応援団として、ダチョウ倶楽部さんが「かめはめヤー!」で登場!
ドラゴンボールのファンだというダチョウ倶楽部の皆さんは、本作について、悟空のパワーアップや、バトルなどに期待を寄せていると語り、フリーザと絡んだネタを披露し、会場は大盛り上がり。
最後にファンの皆さんとフォトセッションを行い、大盛況のうちにファンミーティングは幕を閉じました。

---

Hello, staff here.
Just 28 days left until the premiere!

Today at AnimeJapan 2015, they held the "Tenka'ichi Fan Meeting"!

1,000 fans came running to the assembly hall to cheer at the arrival of Masako Nozawa (Goku), Ryūsei Nakao (Freeza), Ryō Horikawa (Vegeta), plus Masaharu Satō and Toshio Furukawa.

At the fan meeting, besides discussing highlights of the film and the script, lines from the film were performed for the first time outside the studio. Amidst all this, the Dachō Club acted as a pep squad for the film, and performed a "Kamehame-ya"! [Dachō (Ostrich) Club are a comedy trio; "ya" is one of their catchphrases]

The members of Dachou Club are all Dragon Ball fans, and they said they're looking forward to seeing Goku power-up and fight in this new film. They performed a few jokes with Freeza, and the crowd went wild.

Finally they held a photo session with all the fans, and the fan meeting ended on a high note.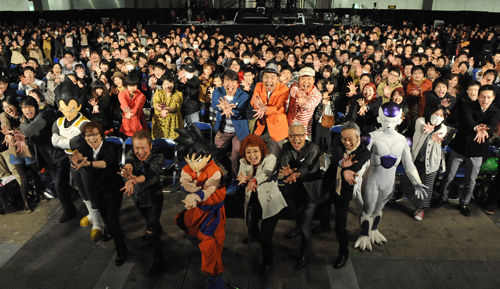 The story for Revival of "F", opening nationwide in Japan 18 April 2015 in 2D and IMAX 3D, is being crafted by original manga author Akira Toriyama, who stated he is writing it, "…as though it were a continuation of the manga when it was in serialization," and that while it will, "…of course be a continuation of the previous Battle of Gods," he has also, "…deliberately increased the amount of action scenes by a good deal." Tadayoshi Yamamuro, who worked for many years as character designer and animation supervisor on the Dragon Ball franchise, will serve as the film's director and animation supervisor. Norihito Sumitomo will return from Battle of Gods and the Majin Boo arc of Dragon Ball Kai for musical composition duties. Momoiro Clover Z will contribute a song alongside Maximum the Hormone, whose "F" will be used as a "battle song" during the film. Revival of "F" is set to bring back Freeza and will also include two new characters (Sorbet and Tagoma), feature Beerus and Whis again from Battle of Gods, and much more.
We will continue to keep tabs on this blog and translate whatever news it reveals, so stay tuned…!